BLUE RIDGE PARKWAY ROAD TRIP
This trip on The Blue Ridge Parkway starts out in Franklin, North Carolina and takes you to the start near Cherokee, North Carolina which is a little over 60 miles away.

I began the day in heavy fog at the Colonial Inn and it began to lift by the time I entered this beautiful, manicured scenic by-way. My destination for the day was West Jefferson, North Carolina.

I knew beforehand that the speed limit on the parkway is 45 mph and the consists of hundreds of switchbacks and curves. With this in mind, I planned on keeping the distance traveled under 300 miles. It's a good thing to keep daily distances short since curvy, winding roads and frequent stops eat up a lot of time.

This is the first half of a 400 mile trip along the Blue Ridge that took two days. Day one was shrouded in fog about a third of the time. This didn't make it lousy, just different.

There was much less fog on the second day of this ride and allowed for more stops along the way to soak in the views. Day two finishes up in Virginia and can be found on the Virginia rides page.


View
Franklin, NC to West Jefferson, NC
in a larger map
RIDE DIRECTIONS

1. From Colonial Inn travel north on US-23 through Franklin, NC

2. Continue on US-23/441 to The Great Smoky Mountains Expy. (US-74)

3. Turn Left on US-74/441.

4. Turn Right on US-441 toward Cherokee, NC.

5. Continue through Cherokee, NC on US-441 to The Blue Ridge Parkway.

6. Exit at SR 163 to West Jefferson, NC.


From Franklin, it's a total of 64.0 miles (about 1 hour 34 mins) to the start of the Blue Ridge Parkway and the length on this leg to West Jefferson, NC is 193 miles (about 5 hours 41 mins)
---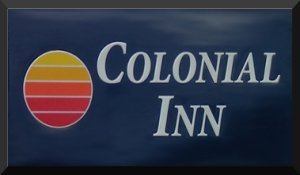 I started this ride in Franklin, North Carolina. My lodging accommodations were at the Colonial Inn just south of Franklin on US-23.

The address is 3157 Georgia Road, Franklin, NC 28734 and the phone number is (828) 524-6600. I stayed there on Saturday, July 9th and the total rate was $53.95.

The Colonial Inn is a nice little place with reasonable rates with a friendly staff and Neil, at the front desk, was kind and helpful. Although the motel was older, it was well kept and clean. My room had a fridge, A/C and free WI-FI.

I don't know about you, but I prefer the little "Mom and Pop" motels.

Mostly, these places reflect pride of ownership and are well maintained. Also, you can usually park right in front of your room.