Motorcycle Gear for Road Trip Bikers
Here's my short list for motorcycle gear that is a must.
When planning a road trip it's important to consider many things and if there's one thing that's worse than falling off your bike, it's falling off your bike with your head unprotected. So, protect it.
When I was a motorcycle test rider I never headed for the track without protective gear and at the top of the list was my helmet . Statistics show that head injury is the leading cause of death in motorcycle crashes, therefore it was company policy to wear a helmet.
In fact, we were required to wear All protective motorcycle gear, always. However, even though we were wearing all that stuff, I still saw guys get hurt. So, remember this. No matter how safe you are (even in a controlled testing environment) things can still happen, so it's best to try to limit your risk.
---
There are few things that compare to being uncomfortable in the saddle. One of the things I did as a test rider was seat evaluations. They were to be completed after each ride and I'll tell you, some motorcycle seats can be positively unbearable. Trust me, I know what you mean when you say your butt is killing you.
Many times it it got so bad I was screaming to get off. One of the things I would do is shift position frequently. Placing your feet on the passenger pegs is a great way to alleviate the pain but, the answer revolves around frequent stops and upgrading to a better seat.
I've got the Mustang Touring Seat with Driver Backrest. In addition to the seat I use a gel insert seat pad called the "Pro Pad". These two items increase my time between stops.
---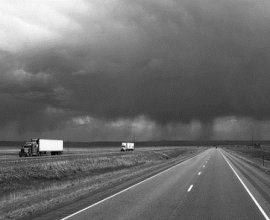 Have you ever been on a road trip and saw this? Then realized that you don't have any Rain Gear? That is about the time that panic sets in because nobody likes to get caught in the rain.
But, one thing's for sure, if it's pouring down like cats and dogs or just sprinkling, you'll want to be warm and dry if you do have to ride out a storm.
You know, it can get pretty darn cold in a thunderstorm too, even in the summer. So, selecting the right motorcycle gear for rain is as important as selecting it for temperature.
Click here to learn more about rain gear.
---
My experience taught me that I don't necessarily need rain gloves when the weather is warm. (summertime) My leather motorcycle half gloves work fine. My fingers are exposed, but when I grip the bars they are out of the direct wind and stinging effect of rain.
However, when it cools off I'm sure glad to have my insulated, waterproof motorcycle gloves.
Have you ever reached down and grabbed the jugs to warm up your left hand? Then tried to use the throttle with that hand while you warmed up your right hand? Is that insane or what? Talk about a recipe for disaster.
Numb hands and fingers is painful. It really hurts. But, riding with hands that are cold and/or wet can be very dangerous.
You need to get some good gloves!
Check out the link below which will take you to the Glove Review page. Down near the bottom you will find links to our Ebay page to order these fine motorcycle golves. They are imported from excellent company that manufactures superior leather products and has quality gloves for all types of weather.
Click the link to take you to the page for the review of three styles of gloves. Glove Reviews.
---
Lets face it, if you're going on the road for any length of time and you don't have saddle bags, then the motorcycle gear you need is luggage.
My bike is a Cruiser but it's not a "Bagger". In fact, I don't even have a windscreen. I have an aftermarket sissy bar and luggage rack so I carry all my stuff in a Kuryakyn full dresser bag and the magnetically mounted Cortech Motorcycle Tank Bag.

I can pack enough to last me 2 weeks on the road with this combo.