Cortech Makes a Great Tank Bag!
Cortech makes many different bags to accommodate every type of rider and every type of ride. From Sport bikes to Cruisers this motorcycle luggage rocks!
I have the TriBag magnetic tank bag which is like three bags in one. The bags have Scotchlite® 3M reflective striping to make you more visible at night.
The top bag is smaller and used for light storage. The zippered expansion panel allows it to open up for more storage. When it's unzipped, it measures 14"L x 10"W x 6"H. (10 Liters)
Inside the top flap of the small bag are two velcro pockets and one zippered pocket and places to store pens.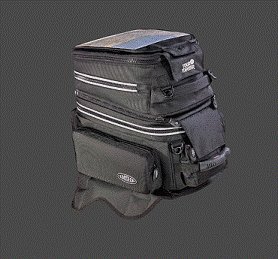 The bottom bag can be used for storing much more stuff. There's even enough room for a laptop.
There are rigid internal panels for support of the top bag and a velcro pocket inside the top flap. With two smaller pockets by the handle and one large pocket in front you can get to some stuff quickly.
It measures 18"L x 9"W x 7.5"H (24 Liters) and has large pockets on both sides.
The bags can zip together to form a considerable amount of storage capacity in one easily removable unit.
What I like about the design of this bag is that I can store my most important and valuable stuff in it and take it with me when I park the bike. I can tote the whole thing around like a backpack because it has straps that are neatly hidden inside. Just pull em out and go. (Pretty Slick Huh?)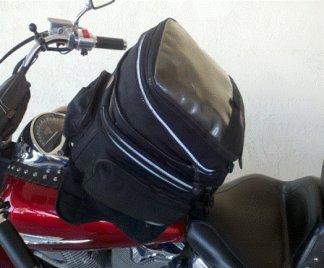 If you don't need the maximum capacity just unzip the top bag and attach the zippered magnet to it.
Now you have a much smaller bag for short trips. Still enough room to carry a jacket, gloves, rain gear, and a few other things.
A light rain usually sheds off with little problem, but I suggest using the two height adjustable raincover that comes with it if you're going to be riding in heavy or lengthy rain.
Every product has a down side and Cortech could have done a little better here.
There are leather pull straps attached to the zipper by a piece of aluminum. This aluminum is subject to metal fatigue and it sometimes breaks making it difficult to use that zipper.
I've lost two of them but it's not a big deal. I just exercise more care when tugging on them.


Return from Cortech to Motorcycle Gear



Return to Road Trip Bikers