Favorite Road Trip Technology
Let's discuss some interesting and useful must have Road Trip Technology.
I believe the most important technology for travel by motorcycle is the compass. Well, not the old magnetic compass, but the compass of today. The sophisticated navigational equipment known as the Global Positioning System or GPS.

Like a genius helmsman, my trusty GPS effortlessly guides me around toll roads and through cities. It leads me to motels, restaurants, and fuel. If you don't like focusing on a map through the plastic window of your tank bag, then GPS is for you!
---
If you're like me, you gotta have music. Some folks tell me that the serenity of the wind rushing past their ears is all they care about. Hey, that's cool and I enjoy it too, but I need music.
Really, I have to have my tunes! For me, this is necessary road trip technology. It adds to the experience, keeps me alert and makes riding more exciting.
If you don't have tunes on your bike, do what most folks do and get an MP3 player. (check the traffic laws in your state/country)
I have a Microsoft Zune HD . The 16gb model has more than enough storage capacity which allows me to hear different songs without repeats throughout a 5,000 mile ride. I think I can get 1400 songs on there.
I operate it through the plastic window of my upper tank bag where I've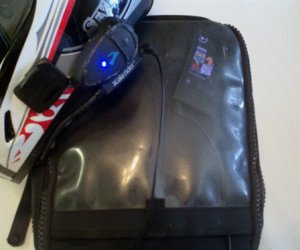 mounted it with a couple sticky velcro patches and it's jacked-in to my helmet speakers through my Cardo intercom.
(I never could get ear buds to work inside a helmet!)
Operation of the Zune touch screen through the plastic map window is marginal.
More pressure on the screen is necessary because of the thickness of the plastic between your finger and the Zune touch screen.
Disclaimer:
There is almost no way it will work with gloves on. I do not recommend trying to operate this device with gloves. Trying this takes way too much effort and focus. It will distract you from safely operating your bike.
---
**UPDATE May 2012**

I've been operating my Zune in a different and safer manner for quite some time now. I used some Velcro on the back of the Zune and on the top of the map window of the tank bag.
Almost the entire back side of the Zune has it stuck to it. I figured I'd need a lot of Velcro to make sure it would never fly off, even at highway speeds. What a difference! It sits there, firmly in place, and is way easier to operate. Downside: It is still difficult to operate with gloves on.
---
Another option for the biker without tunes is satellite radio. My Garmin GPS has the ability to receive Sirius satellite radio with an antenna (an extra hundred bucks) that mounts to the bike. Then I can listen over a paired Bluetooth connection.
---
Then there's communication. You're going to want to communicate... Right?
1.) Cell Phone
2.) Helmet Intercom with Bluetooth
These might be down the list but they tie the list together.
The Helmet Intercom with Bluetooth can pair to your Cell Phone for hands free dialing and communication. It can also pair with your GPS for clear audio navigational commands. Pairing your GPS to Cell Phone then Pairing your GPS to your Helmet Intercom is the best combination.
---
What about shooting video? Have you thought about a helmet cam? I've got the GoPro HD Hero Professional wearable camera.
This tiny camera rocks and is reasonably priced at around three hundred dollars. I've heard some people say that Costco has them for less. Whatever you pay, this camera is the perfect road trip technology for all Motorcycle Road Trip Bikers. It's small and shoots the most amazing video you've ever seen from a pocket sized cam.
---