Looking for a Camera Phone to Mount on your Bike?
Here's a good one!
I was looking for a Camera Phone to mount on my bike to capture video from the road and this is the one I got. I'm not going to do a huge product review here because this android phone has a ton of features that would take pages and pages to describe.
I'll just mention the features that make it an excellent choice for taking on a road trip. To explore all the features, click this link. Motorola Droid X

I'll have to begin by explaining my reasons for choosing this camera phone. First, I wanted to mount a camera to the handlebars of my scooter and shoot video which could be streamed live to the internet. Second,I needed full internet access and third I need a phone to stay in touch. So, after shopping around I settled on the Droid X.
Since the Droid X is not only a camera phone, but a mini computer and video phone, I knew I had the power and utility that I was looking for. The screen is gigantic by comparison at 4.3 inches so it's easy to see and use while mounted on the bike.
I have the Verizon wireless plan with unlimited data and Boy, do I use it. It comes with a 16 gb micro SD card so there is plenty of room for storing lots of video. I uploaded something like 70 hours worth of video during my month long trip using cool app called Qik.
The Droid X can shoot video in 720p HD for crystal clear images and then the Qik app streams it live to the net as long as it is in range of cell towers. It buffers to memory when out of range and then uploads all that data when connections are restored.
The internet capabilities of this camera phone are amazing too. Each night I would surf the net to check out local restaurants and points of interest. Also, making reservations for a place to stay the next night is a huge advantage like when you're near Sturgis South Dakota during bike week!!
By the way, if you want to stay near Sturgis SD during bike week, I recommend bikers make reservations many months in advance. I had trouble finding anything close and the only room I found was in a quaint motel in Murdo SD for $99.00 a night. Dang! (Read more about motels on my Biker Friendly Motels page.) According to Mapquest, Murdo is 161.59 miles away from Sturgis. Double Dang!
The GPS feature and Google Maps are other great tools for the road since you can figure out your routing for the next day. (If you're the planning type) Some motels offer WiFi connections for faster surfing, but be careful not to enter personal data on an unsecured network.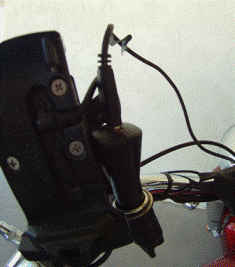 The camera phone battery will run down after about 3 hours while streaming video, so it's important to have it on a charger while in operation.
I had a cigarette lighter plug added to my bike. It's mounted right next to my GPS cradle. There is a USB adapter that fits in the plug so I can plug my phone in.
This setup makes me a little nervous during wet weather so I just cover the plug/adapter setup with a plastic bag and use a wire tie to secure it if the rain is going to be light. I will just remove it altogether in heavy rain. After all, who needs to stream video while it's raining? Right?
This brings us to the how part of the page. How is the Droid X camera phone mounted?
I went online and found the Waterproof RAM Aqua Box. It has a patented seal and Flex-Lens that you can push the buttons through. Your phones touchscreen requires a human touch to work and the lens might prevent full functionality. I didn't have any real trouble unless I was wearing gloves. Then, forget it!
It's mounted to handlebar diameters up to 1.25 inches with separately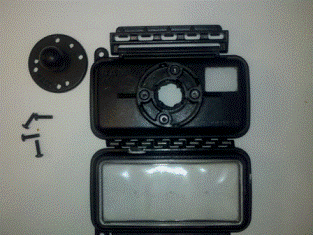 purchased RAM Mounting hardware. The whole thing is waterproof and is designed to keep your phone dry once you snap the heavy duty latch. It can be easily locked shut with a mini padlock.
Calls can be made and received through a Bluetooth device by using voice commands.
All accessory cables and junk can be routed through the self draining baffle design on the back side after cutting out the plug in the center. Removing the plug is the first step to let air flow through the case. Otherwise, the phone will heat up and shut down.
I realized the Droid X camera phone will work fine if charging it while on the road isn't an issue. Snap it into the case and leave the screen off. However, if you want to keep it charged to use the camera (like all day!) it will require some minor modification of the Aqua Case.
I took it to my buddy Al's shop (he builds custom guitars) where we spent a few hours with a Dremel tool, clear plastic lenses, clear RTV Silicone, bathroom caulk, and some foam.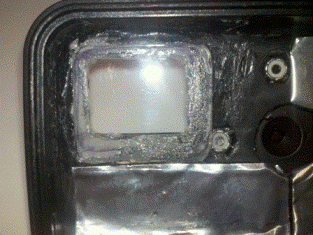 First we had to test fit the Droid X into the cover and mark where hole for the camera had to be cut out.
After cutting the hole for the camera we cemented the lens to the inside of the case with silicone.
Then we marked the spot to put the hole for the power cable.
To keep from cutting on the seam where the case and lid come together,
it was necessary to keep the Droid X in the lid only.
This also allowed for optimal operation of the touch screen through the Flex-lens.
I really didn't want to cut through the Flex lens but it couldn't be helped.
So, we marked the plastic, removed the Flex lens, and carefully cut it to be slightly smaller than the connector of the power cable.
I put the Droid X in the lid and connected the power cable then put bathroom caulk around the hole in the lid and the connector. After it dried,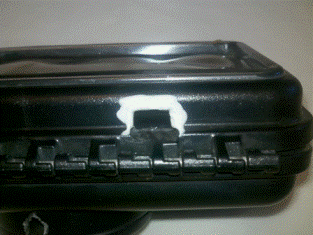 I pulled out the connector and had an almost perfect seal.
It keeps out most of the water and with the strategically placed holes in the self draining baffle design, air can flow in through front and out through the tiny gap in between the power connector and caulking.
The last thing we did was cut out some foam padding to protect the phone while it is in the case. RAM does supply foam pads with sticky backing but these seemed a little too rigid.
As you can see below, the foam is nothing special. It was just some that was laying around Al's Shop.
Al used crude methods to cut out the foam padding. A few clips with scissors and test fit. A few more clips.. etc.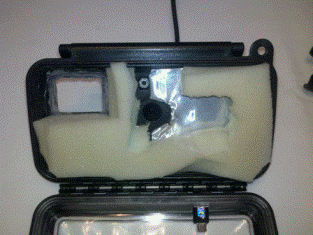 After awhile though, I had to remove a big chunk out of the center of the padding.
This allowed for better air circulation over the phone which was getting really hot and shutting down now and then.
By now, you've probably noticed something that looks like aluminum foil in the case. That's a constrained layer damper material from a place where I used to work. The material is used to damp out sound and vibrations. It has an elastomeric rubber compound and a foil backing. It sticks to anything.
If you've seen any of the video I shot from this camera phone, you'll see some parts when I was traveling at high speed where the picture is vibrating so much that it's almost impossible watch. I'm experimenting with this material to cut down on that vibration.
If you're looking to shoot video this way, I recommend only doing so at slower speeds (under 50 mph) and try not to rev the engine too much. At low speed and revs you get a pretty cool picture.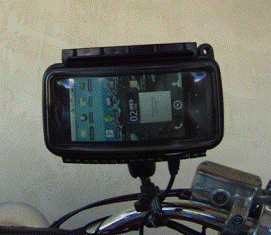 When the unit is mounted to the bike and you have it recording video you can see what's being recorded through the Flex lens.
You'll be able to glance down and tell if the unit stopped working for some reason.
Here's something else I want to share.
The weather feature with live moving satellite images is Great! I used it to see exactly where the heavy concentration of storm cells were.
That way I knew the weather before I rode into it... up to the minute. Having a camera phone that can do this is way cool!


Return from Camera Phone to Road Trip Technology

Return from Camera Phone to Road Trip Bikers