MOTORCYCLE GLOVES
Welcome to Motorcycle Gloves Evaluation.
I have three different types of motorcycle gloves that I used on my summer of 2011 tour of America. I got them from a company out of Pakistan. Pakistan is renown for quality textile products. (Links to Ebay pages for gloves are near the bottom of this page.)
Recent figures show that 60% of Pakistan's total exports are from their textile industry. That's 5.2 billion USD. Textiles are considered the backbone of the Pakistani economy and this translates into well made, quality products.
One such quality manufacturer is located in Sialkot, Pakistan and supplied me with sample gloves to test on the road.
They have been in business since 1999 and are registered with the government of Pakistan as a manufacturer and exporter of leather gear and products such as gloves, jackets and soccer balls.
They have a highly skilled workforce and an ISO 9001:2000/ISO 9001:2008 certification. Quality certifications are important!
Because of their dedication to quality, all three pairs of motorcycle gloves that I got are outstanding. The first thing I noticed about them is the rich leather smell. (I absolutely love the smell of new leather)
As soon as I opened the packages I was hit with that glorious aroma.. And the feel... Super soft and supple to the touch. They used the best quality genuine cow hide leather here.
---
Leather Motorcycle Gloves Cold Weather -- Large, XL
The Winter Gloves are made with two overlapping velcro straps on the bottom side that provides a large opening. I like to grab my jacket cuff and hold on to it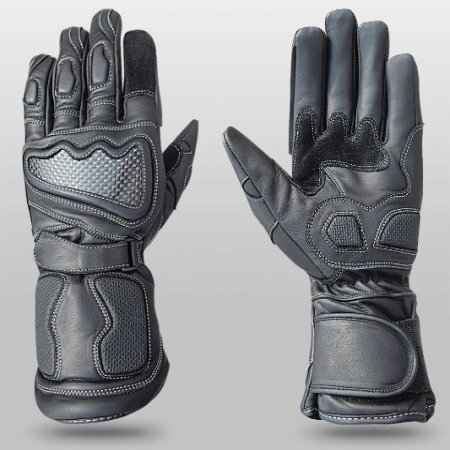 while I pull on the glove to prevent it coming out while on the road.
This wide opening allows for that to be accomplished easily and the velcro straps make a snug and secure fit over my arm.
There is also another strap with velcro on the wrist area to snug it up there too.
Further inspection revealed perfectly spaced stitching with no loose threads anywhere on this leather gear.
There is a novel idea incorporated into these too which helps to make them my favorite pair.
For awhile, I was puzzled by the three inch long piece of rubber attached to the left finger. Then it dawned on me.
This model glove has a squeegee/wiper blade sewn into the left index finger! It's in the left glove only because if it were in the right glove, you'd have to let go of the throttle to use the wiper blade.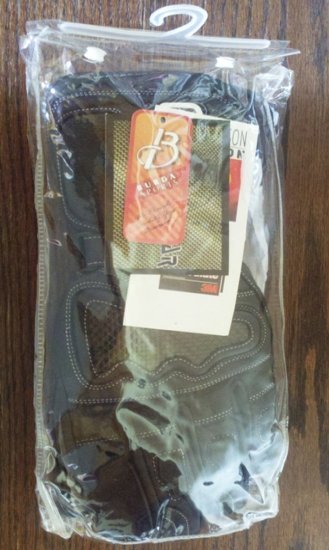 It's perfect for wiping water drops off your face shield on a full faced helmet. Very innovative! It works great when I run into rain.
The little rubber blade works just like brand new wipers in your car. A quick swipe and water is gone affording a perfectly clear and streak free view.
The lining is soft and backed with 3M Thinsulate ® and does a great job of keeping your hands warm.
I wore them on several chilly mornings where the temperature was around 50°F and my hands were kept toasty.
Occasionally, the temps. dipped lower, like when I crossed over Wolf Creek Pass, Colorado early one morning.
The elevation there is almost 11,000 feet and the temperature was in the lower 40°'s.
When the temps. get near 40°F, there is really no glove that will insulate for an extended period of time while riding, especially when you've got your hands stuck to the grips.
When I noted the cold beginning to chill my fingers, I had to remember to let go of the grips and make a fist a few times to get the blood circulating.
At or below these temperatures you could get heated grips, but an inexpensive polypropylene glove liner will work great too. One of my glove customers did exactly that and he claims that it works great.
Overall, these worked excellent when the temperature was above 50°F and quite well around 40°F. My hands never got to the point of feeling numb or painful due to the cold.
They've stitched protective padding into key areas of the wrist, palm, finger, and thumb knuckle areas as well as a large Carbon Kevlar patch covering your upper knuckles to eliminate road rash.
Lastly, each index finger has a patch of suede on the back side to use as a mini wipe too and the palm has it for a better grip on the bars.
Like I said, I really like these motorcycle gloves the best and highly recommend you purchase a pair of them for the touring style of riding like I do.
Click the Play button in the viewer below to see these gloves in action.


---
Waterproof, Insulated Motorcycle Gloves -- Large, XL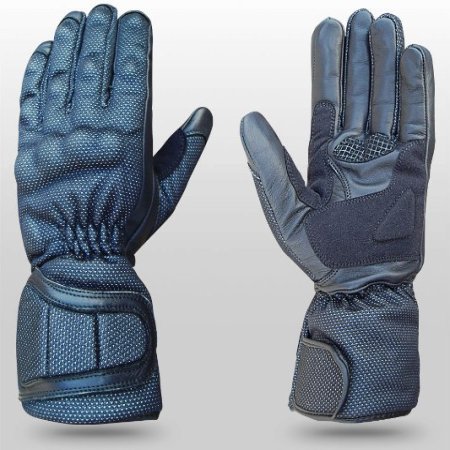 The next pair of gloves that got some field testing are the Waterproof Insulated Winter Gloves.
These leather gloves are a less expensive model and work great for keeping your hands dry and warm.
Like the Winter Motorcycle Gloves, they have 3M Thinsulate ® behind the soft lining and keep your hands and fingers warm.
There is only one velcro strap in the cuff which makes it a little easier to secure it.
The opening is large too and you can pull them over a jacket sleeve while still holding on to it. There is some elastic in the wrist area that cinches around your wrist nicely too.
Of course, there is padding in the key areas and small composite, oval shaped knuckle protectors that are integral.
The palm has suede located in the right places for better gripping and the bottoms of the fingers are soft leather.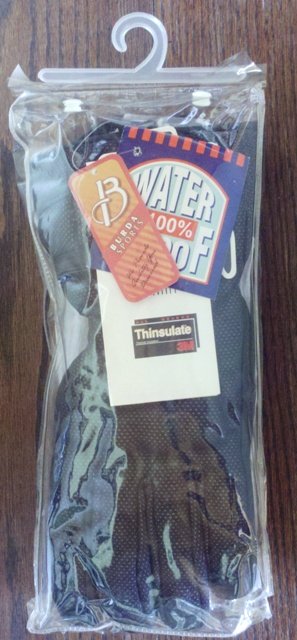 As far as waterproof goes, I tested them under water. That's right. I donned them and sunk my hands into the water up to the wrist and let them stay under there for 30 seconds.
I did this two times and my hands stayed dry.
I don't seek out rainy conditions while traveling. In fact I try to avoid rain when I can.
The day I tested these motorcycle gloves was a clear day when I started out and I intended to check out the insulating properties only, since it was really chilly that morning.
As I rode through some low lying areas I was suddenly engulfed in thick, heavy fog.
It wasn't rain, but you know what I mean, thick fog is like a constant drizzle and will soak you just like rain. Needless to say, they performed great in heavy fog.
These waterproof motorcycle gloves kept my hands nice and dry too through about an hour of riding in the soup.
However, I wasn't prepared for wet the conditions in fog, so my pants got a little wet that day.
For the price, these are a bargain and if you're cost conscious, look at these.
Click the Play Button in the player below to see these Waterproof Winter Gloves in fog.
---
Leather Motorcycle Racing Gloves -- Large, XL
The last pair of gloves that I tried out are the Racing Gloves. I really don't need a racing glove for the type of tour riding that I do, but I still liked the look and feel of these. If you're into dirt or racing, I'd recommend these.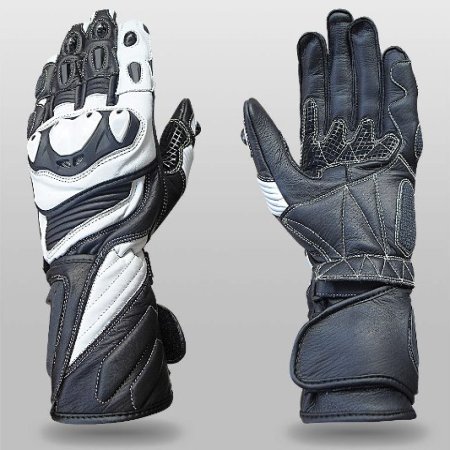 These are not your typical leather motorcycle gloves.
They're not insulated, so I only wore them on warmer days. It was like a second skin. A second skin that has a heavily armored back side!
There's soft leather on the front palm and finger areas and I could feel every single frequency that was transmitted through the grips.
The sensation felt like I was one with the bike and the grip was better than my leather half gloves or even my bare hands!
There is so much hard composite protection that you feel like a super hero and just want to punch something. (only kidding)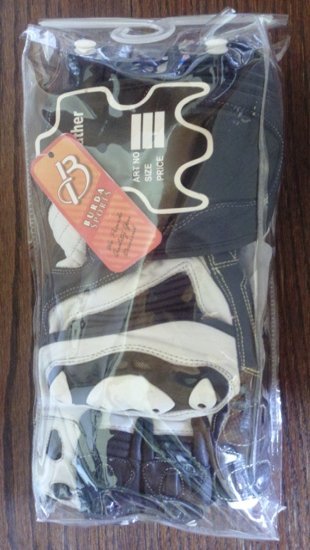 Once again, the cuff opening is very large and allows for pulling over your jacket sleeve.
There are two overlapping velcro straps that connect on the inside of the forearm and a wrist strap with a flap to cover it. The fit is snug and you can articulate your fingers very well.
The knuckle areas have vented composite protectors. The micro screened vents help keep perspiration down and add to the radical look.
Remember to size this glove correctly. The sample pair of motorcycle gloves that I was using is sized large, and after several hours of riding I noticed one of the composite knuckle protectors kinda made one of my knuckles a little sore.
The pressure from holding onto the grip caused a slight discomfort on my left ring finger knuckle. This was really no big deal and I'm sure it'll go away after the gloves are good and broken in.
They're built for racing, but can be used anytime you ride and the styling is way cool!
If you want protection, and these gloves give you that and more, then I suggest order a pair right away.
Click the Play Button in the player below to see these Racing Motorcycle Gloves in action.


Return from Motorcycle Gloves to Gear

Return to Road Trip Bikers