Favorite Motorcycle Intercom
The Cardo Systems Scala Rider Q2 motorcycle intercom is another favorite. It's such a convenience to have this gadget. When you have it configured with your GPS and Phone, it's like Mission Control inside your helmet!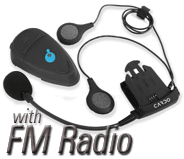 When'd it's paired with the appropriate device(s), you can make and receive phone calls, talk with your passenger, or listen to GPS commands. An Mp3 jack on the clamp assembly allows you to listen to your mp3 player. It even has a built-in FM radio with six presets.
There's an overriding feature so, when you're listening to tunes and the phone rings, or the GPS issues a command, it automatically mutes the tunes. How about that?
If your phone supports voice commands, you just push one button and tell your phone what to do through the adjustable boom microphone.
With another helmet setup, you can communicate with your passenger or another biker at distances up to 1640 ft!
Helmet mounting is made easy with the helmet clamp. Slip it up under the padding and tighten down the screws to hold it firm. Adjust the flexible boom mic in so the microphone is just below your bottom lip.
The speakers are backed with a little patch of velcro and attach to the padding inside your helmet. They are on the small side and need to be carefully positioned next to your ears for the best sound clarity.
Riding in the rain? This unit has a rubberized waterproof coating and I've used mine to ride in the wettest weather.
A full charge will easily last the entire day. I always throw it on the charger when I get in for the night since I've never tested the time it takes to fully discharge.
I'm really impressed. Cardo designed this Right! That's why I'm saving up to get their latest motorcycle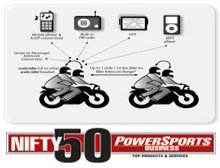 intercom: The Scala Rider G4. This one has a remarkable range of up to one mile. There's also feature for a 4-way Intercom so two bikers and two passengers can be linked.
... and get this, here's the coolest part...
You can use the new "Click-to Link" feature to connect with any other biker using a Cardo G4.
Imagine you meet another biker and notice a G4 on his helmet. Just bump the two G4's together and they automatically pair and you're both talking. Wow!
Click this Link to go to the Cardo website.


Return to Technology



Return from Motorcycle Intercom to Road-Trip-Bikers