Is Garmin the Best Biker GPS?
ABSOLUTELY!
The Garmin Zumo 550 is for you if you're in the market for a GPS device for your ride. Planning a road trip is made easy and I have one and love it.
I got it 2 years ago for around $600 and refuse to ride anywhere without it.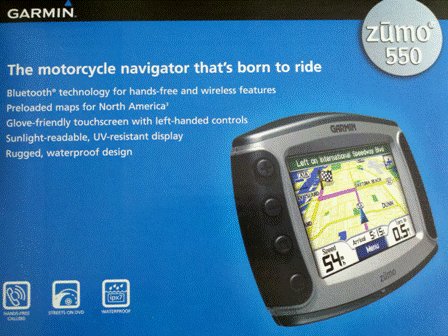 It's designed specifically for motorcycles. You can mount the waterproof cradle solidly to your bike with the mounting hardware provided in the box.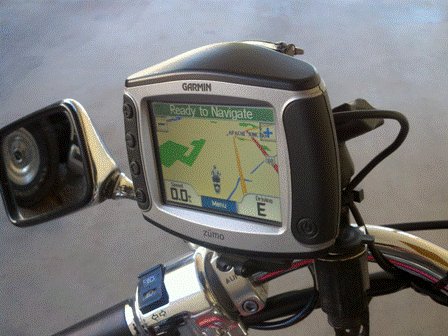 This bad boy will stand up in any weather. I've used it in the roasting heat of Arizona and in the nastiest Mid-West thunderstorms... Never a problem.
The voice commands are excellent too!
Last summer, I was traveling through New England and I had it set to navigate around toll roads.
It would suddenly tell me to exit the freeway then steer me through city streets and back onto the freeway. Thus, avoiding the tolls.
Later, I was entering the New York City area from Connecticut. This crazy little thing steered me through the most complicated patch work of freeways, city streets, and even residential streets, over the George Washington Bridge and into New Jersey. (Yes, That's where I was going!)
The most important thing I learned is to immediately follow the commands of the Garmin GPS to the letter.
Disclaimer:
Don't ride into a lake just because your GPS told you to. You are still solely responsible for the safe operation of your motorcycle.
The 550 model is no longer made but you can still find it online.
Recently, one of the rubberized buttons on the face just fell off. This was due to fatigue and weathering of the rubber. Although it didn't effect the GPS tracking, it did expose the inside of the unit to water and elements. Not good.
I called Garmin service and asked them if I could replace the faceplate since it was such a simple problem. They said no, but suggested that I send it in for service.
Since it was out of warranty, Garmin has a $150 flat rate repair fee. I balked at this since I could fix the unit myself if they would just sell me an inexpensive replacement part.
The service adviser asked to put me on hold while he checked to see if this was possible. When he came back, he told me that was not their policy. However, he did get a supervisor to approve a better deal.
I got a half price repair rate plus tax which came to $80. I sent in the old unit and received a refurbished one. It was just like brand new with a new battery and downloads for updated firmware and maps available too. Now that's a good deal!

Click here for Product Review of Garmin Zumo 550

I have one tiny problem with my Zumo 550. Every now and then it will freeze up and need to be re-booted. This usually happens when the key is turned off then back on.
The manufacturer recommends you press and hold the power button and + button. This sometimes doesn't work. So I re-boot the unit by removing and re-installing the battery.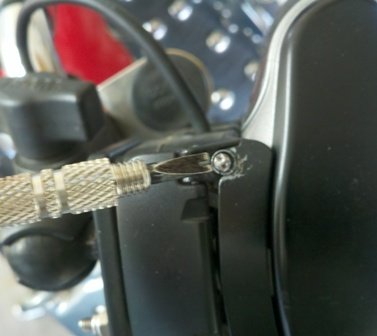 Having the GPS lock up while on the road really sucks. That's why I always carry a small tool kit that's readily accessible in my tank bag. In there is the Security screwdriver for removing the GPS from the cradle and a small Allen wrench that comes with the unit to unscrew the screw holding in the battery.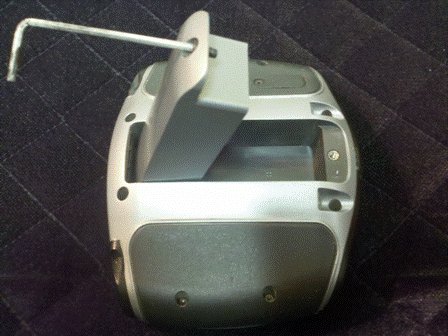 Return to from Garmin to Technology



Return to Road-Trip-Bikers