Have You Been Soaked In The Rain? If So, You Need Rain Gear.
Have you been caught in the rain without rain gear? I'm not sure if you have or haven't, but if you have, then you know it's a total drag! Not to mention, a driving rain at speed can be painful too. Those little rain drops that feel soft and gentle on your skin when you are walking around can sting like paint balls at 65 mph. So, what kind of rain gear do you need? That depends on how much wet riding you do.
Some bikers will never ride in the rain and they usually cancel plans to ride at the first sign of bad weather. But, chances are, especially if you're planning a road trip, there will be rain... sometimes, lots of it. So, you'll need some decent rain gear.
There are many rain gear styles and materials that are easily found at your favorite cycle store or on the internet. The important thing to remember is complete coverage.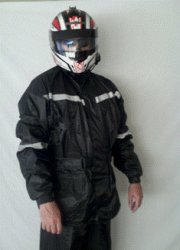 If you've ever had an emergency and were forced to use the old stand-by garbage bag, then you know what I mean. Sure, it'll work, but not for long and not well.
Your choices for rain gear are really narrowed down to two types: The standard one piece suit or the two piece, with a jacket and pants. I prefer the latter and I don't spend much money either. I go with a cheaply priced two piece suit with a jacket and pants that are slightly over-sized allow for the use of insulating clothing underneath. Also, the larger size pant makes it easier to slip them on over boots. Plus, having a two piece allows for use of the jacket only. You'll find that sometimes the rain is light and variable and there won't be any need for donning the rain pants.
I use the Motoboss Storm Guard jacket and pant combo. Yea, it's cheap at $29.00, but as far as quality and durability goes, I find that it's a great value.
The shell is a polyurethane coated polyester that is waterproof and wind proof. Inside the jacket is a micromesh open-weave liner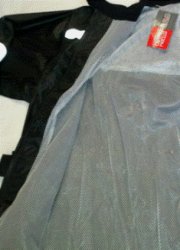 that wicks moisture away from you. A slight drawback of this mesh is that it will sometimes hang up on small clothing buttons and watches.
The back side has a caped vent to allow some airflow which helps with cooling.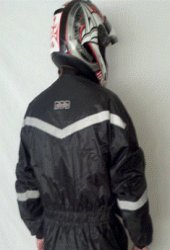 The zipper on the front is on the cheap side and needs to be used carefully.
It is shielded by a full length, velcro, rain gutter flap that makes a nice seal and prevents water from getting in. There is a drawstring on the bottom that allows for a tight fit. The ends of the sleeve and collar have a soft cloth- like feel with velcro straps to cinch up tight. There are two, big, waterproof pockets in front that seal with velcro flaps too. There is also an adjustable belt to use for a snug fit.
The pants have an elastic waist band that holds them in place. (I wear 'em high on my waist) There is one big cargo pocket in front with a velcro flap. The seat and foot areas, where high wear is possible, are made of a heavy duty Tasian fabric. The cuffs are zippered with an expandable gusset to make it easy to put on over boots.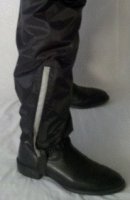 Finally, there are elastic instep straps that attach with snaps to secure the pants to boots.
The safety side or this rain gear is visibility. Both the jacket and pants have reflective tape in the right places so you'll really stand out.
As an added bonus, the black color acts like a heat sink and soaks up the sun on those cool mornings keeping you warm. However, this can sometimes make for an uncomfortable ride in and out of rain mixed with sun.
I'm on my second set now. My first set of these lasted two seasons. The rubberized coating in the pants was scraped off on parts of the lower leg areas by pulling them on and off over boots. This left only the polyester shell, which isn't waterproof. The last few rides in rain left my legs soaked below the knee. If you go with Motoboss rain gear, just take a little more time and care while putting them on and taking them off and they should last a few years. It's still a great value.
Return From Rain Gear to Motorcycle Gear


Return From Rain Gear to Road Trip Bikers