Tired of Iron Butt?
Are Mustang Seats Worth It?
That's a tough question. Mustang seats certainly look like they are.
Everybody is different, but on a road trip, one thing is for sure, it's only a matter of time before we all get Butt Ache!
I know these folks design a good touring seat with the best quality materials and workmanship so I eventually purchased one for around $600.00. It has a comfortable adjustable back rest and the studs around the bottom give it character.
It's a quality product and made in America! The rider product reviews are all excellent too, so I expected to get the relief I was looking for.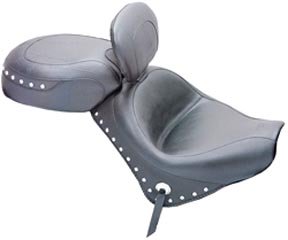 Now, I don't want to rip on Mustang. There are plenty of people who love and swear by them.(read their testimonials) Heck, it even looks cool on my bike, but it only slightly increases the distance I can ride before I have to stop, get off, and move around.
My stock seat allowed me to travel in the neighborhood of 50 miles before the pain set in. The Mustang seat increased that distance to around 120 miles so I justified the purchase this way...
This is my (convoluted) logic. I have enough fuel to travel about 120 miles before I hit reserve and that's where I've programmed my GPS to warn me of low fuel.
I'm usually over-cautious when it comes to running out of gas so I plan to stop around that time anyway. It just so happens that's when Butt Ache is reaching it's maximum intensity level. OUCH!
Don't get me wrong, these seats work very well for the one day trips. All my complaints come after the first day of a long road trip. For me, the first day of any trip is usually over 300 miles and the Mustang seat works great.
It's just that the following days get progressively worse. I have to constantly shift my weight by putting my feet up on the passenger pegs. This look might be fine for a crotch rocket, but I ride a Cruiser.
I even dropped another hundred bucks for a gel pad. This helped a little bit. So, what now? Different Gel Pads, Wooden Beads, Sheepskin, etc ?
I've been searching around and found a seat pad that I want to give a try. It's the Roho Airhawk Large Seat Cushion for Touring.
Everybody is built different and there are different solutions for each of us. My quest for a solution to Butt Ache isn't over yet.
Stay tuned...


Return from Mustang Seats to Motorcycle Gear

Return to Road Trip Bikers