Kuryakyn Makes Excellent Add-On Luggage for Bikes Without Bags.
The Kuryakyn Full Dresser Bag has tons of room for all your gear. If you're planning a road trip and you need motorcycle luggage, this is some good stuff!
With the included assortment of straps and belts you can attach it to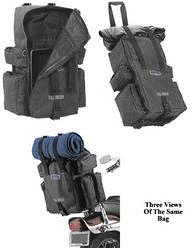 any backrest, luggage rack or passenger seat.
It is made from 1200 Denier nylon and has waterproof zippers so it's tough and resists water.
Open the zippered main compartment to reveal a rigid molded plastic insert with two sections that provide support and keep your clothes from wrinkling.
Above is an expandable compartment that can hold a Full Faced Helmet along with two leather jackets!
The main compartment flap has mesh pockets inside and a two-way zipper that runs almost all the way around.
On the outside are zippered pockets with reinforced piping and waterproof zippers for storing smaller things.
There's a heavy duty strap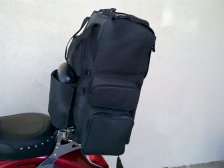 and set of tough wheels so you can be mobile. It does tend to wobble while pulling until you get used to it.
I've never used it, but Kuryakyn provides a rain cover too. Although, I could have used it once or twice when it was really pouring. My stuff didn't get totally soaked, but there was some detectable dampness.
There's a 9" wide adjustable velcro mounting strap that secures the whole thing to the backrest, but this didn't satisfy me. I have a piece of bungee with hooks on the ends that I connect to the luggage rack.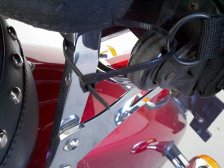 I have little trick that affords me some peace of mind whenever I have to leave my bike with the bag still attached.
I use plastic wire ties and secure the bag to the luggage rack and sissy bar through the D-Rings that are located in multiple places on the bag. Multiple places, multiple heavy wire ties!
Also, I use the wire ties on all the zippered compartments. Each pocket has two zippers. The pull tabs can be tied together with a small wire tie to prevent opening of the pocket by wind or strangers.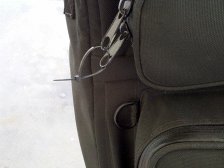 I know it's not much, but it keeps honest people honest. Someone might give a tug and realize it's fastened to the bike and leave it alone. If they had the time, they'd have to find and cut all the ties (and there are many) in hidden places that I've tied it down.

Also, there are two adjustable straps that you can operate with gloves on. They can be used to tie tents, jackets, or bedrolls above the top or to simply tie down the collapsible top.
The dimensions are:
Main Compartment is 12" wide.(Overall Width 18" which includes the exterior pockets)10" Deep x 18" Tall (Top Compressed) or 25" Tall (Top Expanded)
Cubic Inches: 3,240 Expanded: 4,500
Return From Kuryakyn to Motorcycle Gear

Return to Road Trip Bikers