BURLINGTON VERMONT RIDE
Burlington Vermont is the largest City in the State. With a population of slightly over 40,000, it might seem small, but if you include the whole metropolitan area, which consists of three counties, it really has over 200,000. This is almost one third of the population in the entire state.
It is located in the Northwestern portion of the state and is a little over 90 miles from Montreal, Canada.
This was an excellent destination to plan a day-ride to from Rutland, Vermont.

View Rutland, Burlington Loop in a larger map
Here's the directions.
1. Depart Highlander Motel at 203 N Main St and head north on Main St toward Post Road.
2. Turn east on Post Road to Park Lane
3. Keep left onto Park Lane and follow to US-4.
4. Turn left onto US-4 and continue to State Rt 100 near Killington.
5. Turn left on Route 100 and follow north.
6. Keep left on Route 100 at the Route 107 intersection.
7. Remain on Route 100 to Irasville.
8. Turn left at Irasville onto State Route 17.
9. Turn right at State Route 116 heading north.
10. Follow State Route 116 to intersection of US-2 at South Burlington. (Williston Road)
11. Turn left on US-2 into downtown Burlington.
12. Return to Rutland via US-7 South.
I arrived in Rutland, Vermont on a stormy Wednesday evening on July 13, 2011. After an excellent nights sleep at the Highlander Motel on US 7, I decided to take the day and explore central Vermont. I call this ride the Burlington Vermont Ride.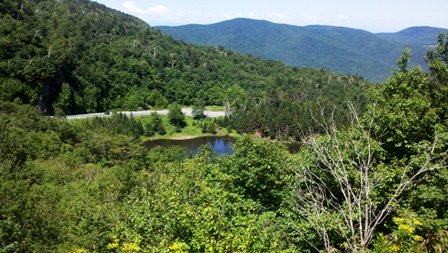 Vermont in the summertime is beautiful and I was lucky to have just one of those days. It was a bright sunny day and the sky was perfectly clear. The morning temperature was cool enough for me to need my leather jacket, but the afternoon was just the perfect temperature for my sleeveless shirt.
The ride will take you through the heart of the Green Mountains and you'll see beautiful landscapes, rivers, and towns.
---
Click Play Button In Center Of Image To Watch Video
Return from Burlington Vermont Ride to Vermont Road Trips



Return To Road Trip Bikers