DEVILS TOWER RIDE
The Day Trip to Devils Tower, Wyoming delivers a full day of beautiful riding for bikers and covers about 350 miles. The trip starts out in Faith, South Dakota at the Branding Iron Inn and travels west through Newell, SD, Belle Fourche, SD, and Hulett, Wyoming.
The halfway point is Devils Tower National Monument in Wyoming.
The return trip goes east through Sundance, Wyoming and onto Interstate 90 around Spearfish, South Dakota. It then jumps off the Interstate to Deadwood, South Dakota and then to one of the best Biker Rallies in the world in Sturgis.
The final leg covers roughly 100 miles back to Faith, South Dakota.

View South Dakota/Wyoming Day trip in a larger map
1. From the town of Faith, South Dakota, Head West on US 212 to Newell, SD 2. Turn Left on S Dakota 79 S/US-212 W/Dartmouth Ave (Continue to follow S Dakota 79 S/US-212 W)
3. Turn right onto US-212 W
4. Make a Slight right to stay on US-212 W
5. At Belle Fourche, Turn left onto US-85 S
6. Travel South through town and turn right onto S Dakota 34 W
7. Entering Wyoming SD-34 becomes WY-24 W (Continue West on WY-24 W)
8. Turn right onto Main St in Hulett, Wyoming heading West.
9. Turn left (SW) onto WY-24 W/Main St
10. Turn right onto WY-110 W/Co Rd 174/Devils Tower-National Monument Rd
Arriving Devils Tower National MonumentTotal: 155 mi - about 2 hours 48 mins
Return Trip Starting from WY-110 W/Co Rd 174/Devils Tower-National Monument Rd
1 Turn right onto WY-24 W
2. Turn left onto US-14 E
3. Turn left to merge onto I-90 E toward Spearfish
4. Take exit 17 for US-85 S toward Deadwood-Lead
5. Turn right onto US-85 S
6. Leave Deadwood on US-14 Alt E/Main St (Boulder Canyon Rd)
7. Cross under I-90 and US-14 becomes Lazelle St (S Dakota 34/79)
8. Turn right onto 4th St
9. Take the 1st left onto Main St
Arriving Downtown Sturgis
Total: 90.3 mi - about 1 hour 47 mins
Back To Faith, South Dakota
1. Turn right onto Lazelle St and continue onto S Dakota 34 E/S Dakota 79 N/206th St
2. Turn left onto S Dakota 79 N/131st Ave and continue to follow S Dakota 79 N
3. Pass through Newell, South Dakota and turn right onto US-212 E/8th St and continue to follow US-212 E Arriving at Faith, South Dakota
Total: 101 mi - about 1 hour 43 mins
Chances are that if you travel by motorcycle to South Dakota, it will be for Bike Week in Sturgis!
Every biker has a deep yearning to make the trip someday. It's the annual Be-All-End-All Biker Mecca. It's all things motorcycle. This event that lasts for 6 days draws more than 650,000 visitors!
I've been to the Sturgis Bike Week Rally three times and didn't make reservations the first two times. Whoops! Calling ahead the day before lands you at least 100 miles away... If you're lucky. And expect to pay top dollar there too.
In the spring of 2011 I started researching the availability of Sturgis Hotels and couldn't find anything in Sturgis, Deadwood, or Rapid City. Even Murdo, which is 161 miles east on I-90 was booked up. So, what do you do?
I got on Google Earth and scoured the map for lodging and found this great little place in Faith, North Dakota. Faith is 101 miles North East of Sturgis on US-212. It's out of the way unless you're coming from Minnesota or North Dakota. (Which I was.)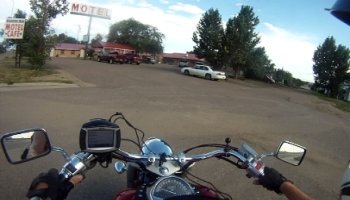 Anyway, Faith is a small country town with a population of 489. The town was named for Faith Rockefeller whose grandfather, William was an investor in the railroad that founded the town. A notable Celebrity from Faith is Catherine (Daisy Duke) Bach.
I stayed two nights at the Branding Iron Inn. I spoke with Tim and he gave me a rate of 49 bucks a night. With tax it came to $53.50/night, and that's a screaming deal.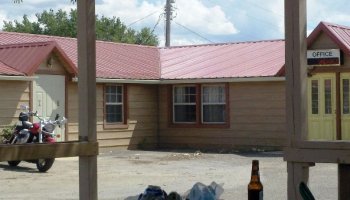 He also made sure to put me in the room closest to the WI-FI source for excellent connection.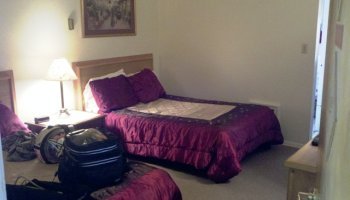 The Branding Iron is a quaint and clean little motel with a diner attached. Tim is the chef and you must try the Tim Burger.
The morning I left, he personally came outside to thank me for staying and invited me back next year. I love small town hospitality!
At first, it seems like Faith is in a remote location, but the road into Newell, which is about 21 miles from Sturgis, is pretty straight with some hills.
The posted speed limit is 65. But, let's just say you can make that 80 miles in under an hour and leave it at that.
Newell is a good place to fuel up for the next leg. This portion will take you west past the Belle Fourche Resevior and National Wild Life Refuge.
After passing through the town of Belle Fourche (pronounced bel-FOOSH), which is French for "Beautiful Forks", you'll hop off US-212 and take S.Dakota 34 west into Wyoming.
When you cross into Wyoming SD-34 becomes WY-24. At this point the terrain changes drastically from lush, rolling hills, prarie to forested mountains with a curvy, winding road that takes you past Hulett and right to Devils Tower National Monument. Before entering the park there is a gift shop for coffee and amenities.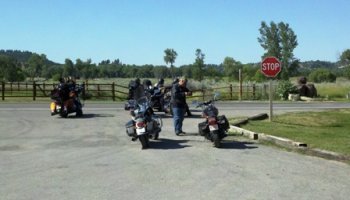 Keep in mind that there is no fuel here. The nearest fuel is in Hulett (10 miles) or Sundance. (28 Miles)
The park entrance fee is $5.00. There is a 3 mile paved loop that takes you up to the base of the tower. Many opportunities for photos and viewing are provided along the way.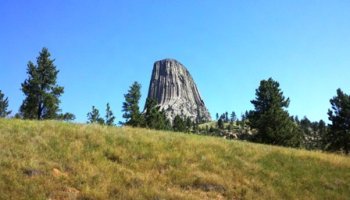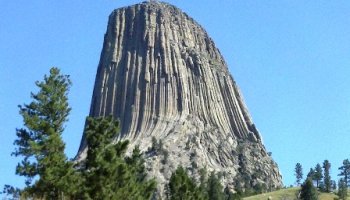 The visitor center is open seasonally and has a bookstore and exhibits about the geology and history of the tower. There is also a campground and facilities and several hiking trails too.
It's a real cool place and I spotted it from the road at least 10 miles away. As you can see in my first travel video, I pulled off the main road and took a dirt county road a few miles north for an amazing view of the tower.
Click this link for the National Park Service Webstite relating to Devils Tower. Leaving the park, you'll hang a right back onto WY-24 for a few miles until it connects with US-14 which will take you all the way to Sundance at I-90.
I made it to here from Newell on a tank of gas but I was pretty nervous those last few miles. I think it's a Conoco Station right after you go under I-90.
I'm not particularly fond of Interstate travel unless I need to make up some time and this is where I got on I-90 back into South Dakota.
The speed limit is 75 and I was going a little bit faster than that until around the State Border, where I saw a few cops and backed it down.
I continued on into South Dakota to exit 17 which is US-85. 85 takes you south into Deadwood.
Include Deadwood as a travel destination during bike week. It seems that a lot of the overflow from Sturgis ends up here. Actually, it's more rustic than Sturgis, and has that Wild West atmosphere.
The town of Deadwood is a National Historic Landmark and it's located in the Black Hills. In 1876, while gambling in Deadwood's #10 Saloon, Wild Bill Hickok was shot in the back of the head by Jack McCall while holding what became known as the "Dead Man's Hand"... Aces and Eights.
He was buried in the Mount Moriah Cemetery in Deadwood. Deadwood is his final resting place along with another notable figure... Calamity Jane.
The Black Hills Gold Rush started in 1874 after the announcement of General George Armstrong Custer that gold had been discovered. Lured by this announcement, many hopeful miners descended into the area and formed the mining camp which was the beginning of this lawless town. In 1876 it was estimated that approximately 90% of women of the camp were "Painted Ladies", which is a nicer way of saying prostitutes.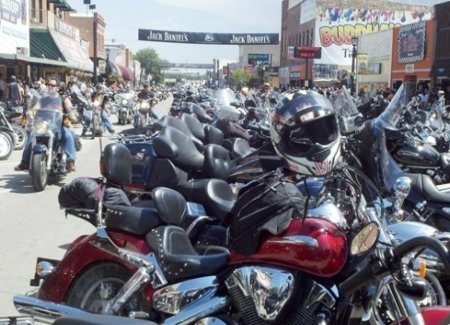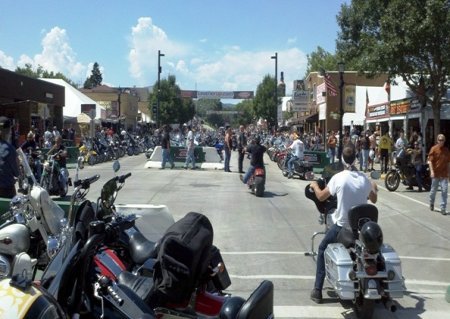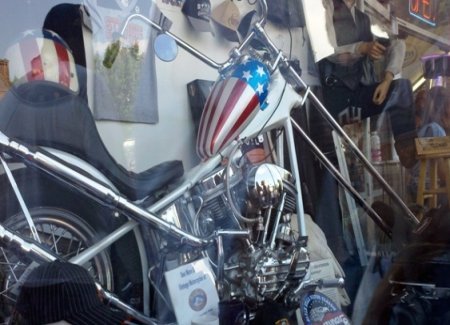 Today, Deadwood is a glimpse back in time to those lawless days with many Hotels, Casinos, and Saloons on main street.
Part two of the youtube videos will give you an idea of what Deadwood is like during bike week.
Sturgis is only 10 miles from Deadwood and you get there by traveling east on US-14.
It seems that you've officially arrived after you crossed under I-90 when Boulder Canyon Road becomes Lazelle St.
Lazelle street is packed with all sorts of commercial vendors selling their wares under tents, but don't try to park here.
I suggest you do what I do and turn south from Lazelle St. and hit Main Street.
Barriers that prevent automobile traffic are set up at all access points to Main St. and you can easily pass around them.
As you make your way onto Main, you'll see the spectacle that makes Sturgis famous!
There'll be thousands of bikes lining both sides of the street and up and down the middle too.
Travel slow and cover the whole distance in both directions. (about 5 blocks)
There are turnarounds at the intersections and people everywhere.
Although it may look impossible, I promise you can find a spot for your bike somewhere in the mix. Guys are constantly leaving and spaces open up. I prefer to find a spot on the south side of the street in the shade as it gets pretty warm that time of year.
Just be sure to scope out the whole scene before deciding on a spot. Once parked, there is so much to see and do. Hit the sidewalk and take it all in and be sure to buy a whole bunch of souvenirs, shirts, and crap.
The rally is usually scheduled to begin the second week of August and runs for 6 days. Make your reservations early for accommodations and enjoy!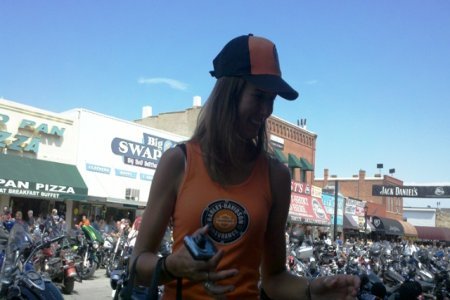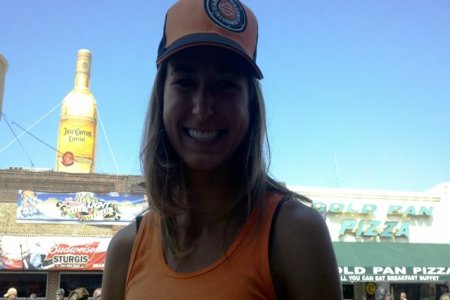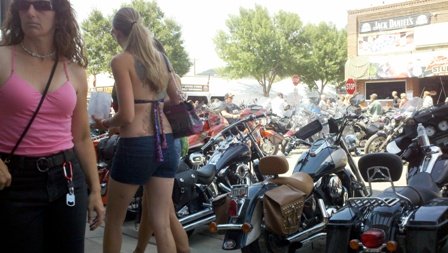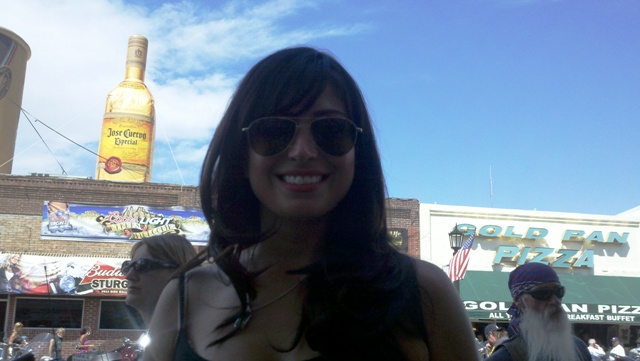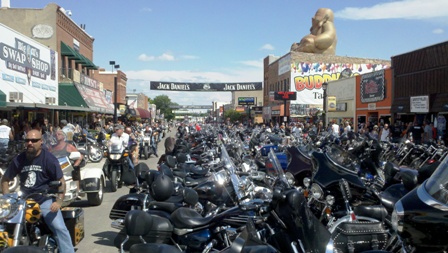 ---
Click Play Button In Center Of Image To Watch Video


Return from Devils Tower Ride to South Dakota RoadTrips



Return To Road Trip Bikers