Mexican Hat Ride
The Mexican Hat ride from Durango is a portion of a ride that started in Del Norte, Colorado. It was a good starting point, but the majority of the Colorado footage can be seen on the Colorado Page.
We join this ride in Durango, Colorado and travel through western Colorado and to the Four Corners Monument which is operated by the Navajo Nation.
The ride progresses on to the San Juan Inn in Mexican Hat, Utah and goes through some very beautiful scenery with long stretches of very straight road and bright red buttes, mesas and monumental rock formations near and far. Right out of a Hollywood Western, this landscape is sure to delight.

View Durango to Mexican Hat in a larger map
This is the route in text form in case anyone is intrested.
Total: 160.0 mi - About 3 hours 15 mins
Starting from S Camino Del Rio in Durango, Colorado
1. Head northwest on US-160 W/US-550 N/S Camino Del Rio toward Dominquez Dr
2. Turn left onto US-160 W
3. Slight left onto US-160 W/S Broadway (Continue to follow US-160 W)
4. Turn right to stay on US-160 W (Entering New Mexico)
5. Turn right onto New Mexico Highway 597
6. Continue onto 4 Corners Rd
7. Turn right to stay on 4 Corners Rd (Arriving at 4 Corners Rd)
Starting from 4 Corners Rd
1. Head southwest on 4 Corners Rd
2. Continue onto New Mexico Highway 597 (Entering Colorado)
3. Turn left onto US-160 E
4. Turn left onto CO-41 N
5. Continue onto UT-162 W (Entering Utah)
6. Turn right to stay on UT-162 W
7. Take the 1st left onto UT-162 W/Trading Post Rd (signs for Bluff)Continue to follow UT-162 W
8. Turn left onto US-191 S/Main StContinue to follow US-191 S
9. Continue onto US-163 S/US-163 Scenic S
Arriving at San Juan Inn. Mexican Hat, Utah

---
The Mexican Hat ride was completed near the end of my 2011, 9000 mile, 21 state, summer road trip extravaganza. As I mentioned earlier it is a continuation of my trip that originated that day in Del Norte, Colorado, but it's best to save the bulk of the Colorado footage for the Colorado page.
Although Colorado is beautiful and conjures up images of the Rocky Mountains and heavily forested terrain, the far southwestern region takes you by surprise with its wide open desert and smaller mountains and peaks that appear completely deforested.
As you'll see in the video below, the landscape quickly changes once you depart the Durango area. Only an hour out, the terrain begins to resemble something strange and exciting and more like a moonscape right out of a sci-fi movie that will leave you wondering if you've crossed into New Mexico or Utah or maybe Mars. In actuality, New Mexico and Utah are less than 30 miles away. Mars on the other hand...
Out here, there's a whole lotta of nothing. Nothing but miles and miles of vast expanse and scenery that opens up the imagination. The horizon is seemingly countless miles away and you might ask yourself: How can anyone survive out here? or What must it have been like for the first pioneers?
Entering this part of the country will begin an odyssey of the most foreign looking terrain and places that you've ever experienced.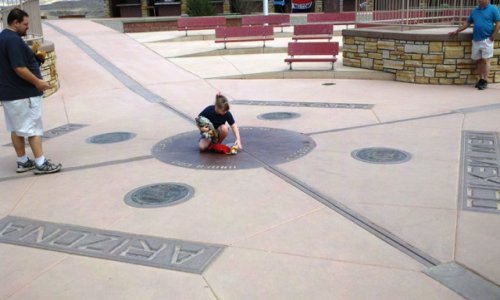 The midway point on this ride is the Four Corners Monument. It's the only place in the United States where you can stand in four states at same time.
Colorado, New Mexico, Arizona and Utah state lines all converge at this one remote point.
I guarantee that you won't be able to resist waiting for your turn to position yourself on the marker and try to be in all four states like a game of twister. Located near the San Juan river, it is a very isolated and unpopulated area.
The Navajo Nation operates the monument and charges a $3.00 entrance fee. There are no services, water or phones. They do have small visitor center and souvenir shacks that sell trinkets and food. Self contained toilets are available during business hours. Open 7 am - 8 pm (June - Sept) and Open 8 am - 5 pm (Oct - May)
After leaving the monument, you'll have to backtrack 5.5 miles on US-160 to Colorado SR 41 which becomes Utah SR 162 at the state line. Get ready for very interesting scenery changes on this leg of the ride. The deep red colors you'll see are stunning and the mountains and rock formations are right out of a Roadrunner and Coyote cartoon. It's absolutely unreal. Note: There are no ACME retail outlets nearby.
Mexican Hat, Utah is the final stop on this ride. It is the gateway to Monument Valley and is a small community on the San Juan River in far southeast Utah.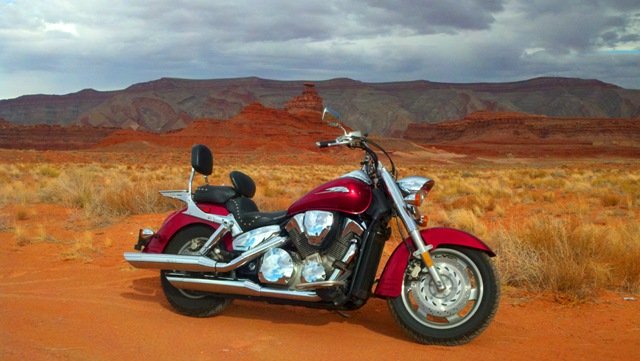 I think there are less than 100 residents residing here. There is one gas station and it's strongly recommended to fill up. Mexican Hat draws it's name form the unique rock formation a few miles outside of town.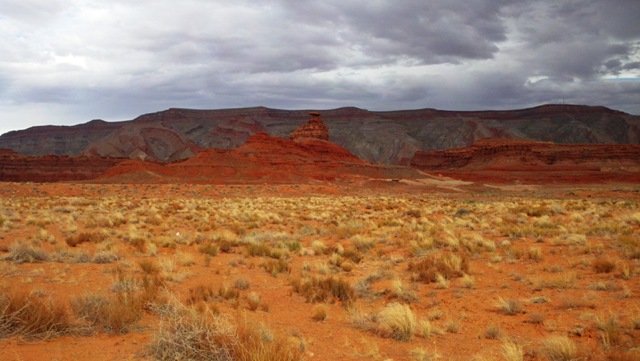 The Mexican Hat Rock formation resembles a Mexican sombrero precariously balanced upside down on an outcropping. Access can be gained via a well traveled dirt road heading east off US-163. If you're into hiking, there are two trails to the top.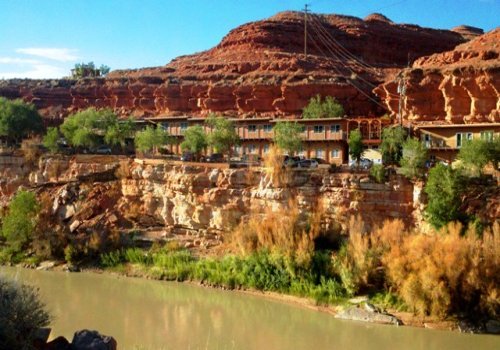 Back in town, The San Juan Inn, turned out to be one of the best travel destinations on my tour.
Imagine that you like to hike and camp out.
Now pick your favorite campsite with magnificent views of deeply red colored rocks and mesas, perched on a cliff and overlooking a river far below.
Now take that spot and build an Inn there.
If you could maintain it with quality standards and have a friendly outgoing staff, gift shop, and restaurant, then you'd then have the San Juan Inn.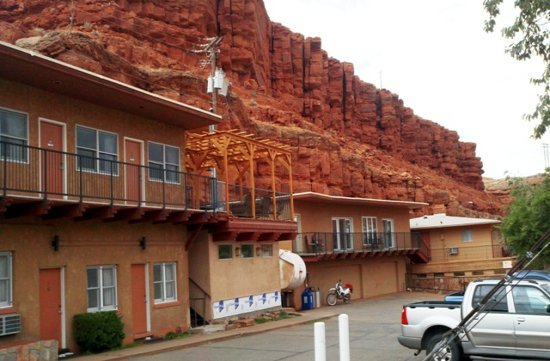 The San Juan Inn has got to be one of the most unique places for bikers to stay and if you're like me, you'll definitely want to go back.
Rooms are clean and comfy and have what you expect.
The television picture was fuzzy on all channels, but with all that scenery outside, why watch it?
Besides, if you have a laptop you can watch movies over the free WI-fi anyhow.
I found the bed to be very comfortable too and had a great nights sleep.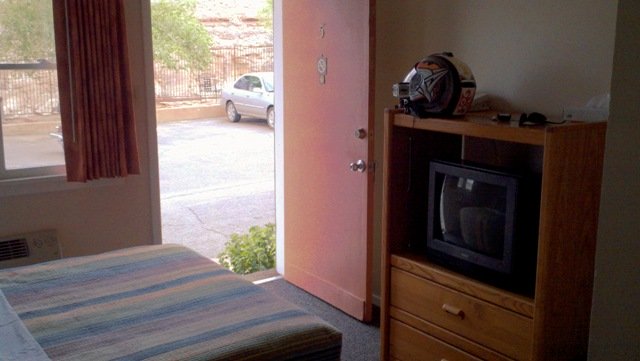 I remember that the air conditioning was ice cold. This was great as it was a hot day in August. I had to turn it down that night because it was so efficient. There is also a laundry room and exercise room.
All rooms have outstanding views but there is a small public area upstairs with tables and chairs to sit and relax with a cigar as night approaches. Sunset is something to experience here and you won't be disappointed. You may even be lucky enough to be out there and watch a full moon rise over this scenic location.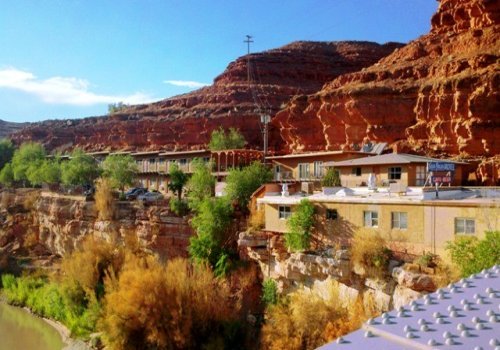 The San Juan Inn is a great and affordable place to stake out as a base camp if you'll be exploring the Monument Valley area.
There are many wonderful things to see that will take more than one day.
The Goosenecks State Park, which is only 4 miles away, is where you can view the San Juan River 1500 feet below, snaking it's way through the earth.
You can take an 8 mile loop through the Natural Bridges National Monument or the 17 mile loop through the Valley Of The Gods which is considered a photographers paradise.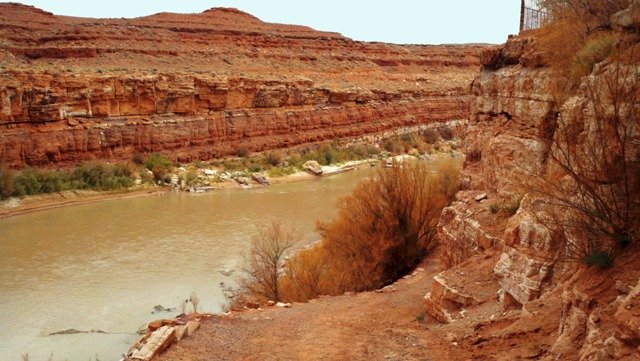 From the Inn, there is a path that leads down to the river. At the bottom there is neat place to hang out and relax. They've put a picnic table and some chairs in there and I noticed a fire pit where I suppose, that if you wanted to, you could get some wood and have a fire. It looked like guests frequently do this as there were ashes in the pit.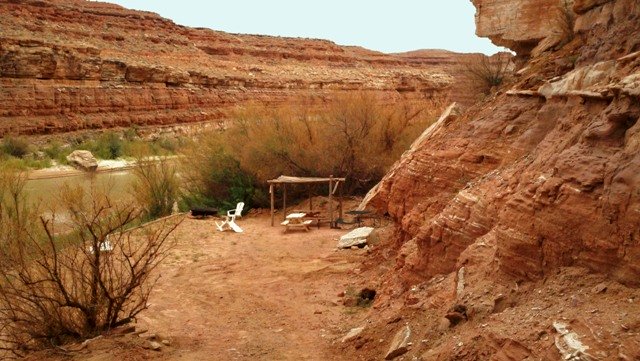 For legal reasons, there is a warning sign posted at the top of the trail by the management about the dangers of hiking down the path and around the river. If the path is too steep you could take the bridge across the river to the hiking trail that follows the river westward. This trail looks a little easier to navigate, but it still could be challenging. Remember to be prepared.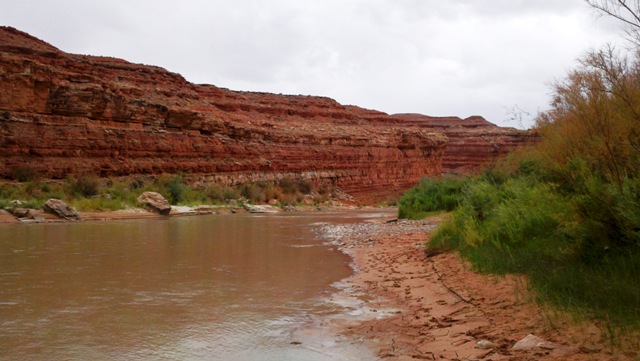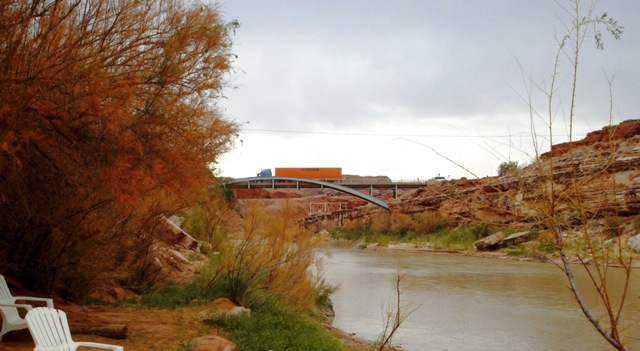 The Old Bridge Grill, which is part of the San Juan Inn, has top notch views too. There is a full American menu and a few Navajo dishes with a local flare. They are also proud of the fact that they possess the only Utah issued restaurant liquor license for a hundred miles in any direction. Also, make sure that you check out the trading post where you can find Navajo art and books. There are also rugs, baskets and jewelry.
It is advisable to make reservations at the San Juan Inn especially during peak tourist season.
Address: Hwy 163 and the San Juan River
Mexican Hat, UT 84531
http://www.sanjuaninn.net
---
Click Play Button In Center Of Image To Watch youtube videos