Natchez To Vicksburg Ride
The Natchez to Vicksburg ride is actually a continuation of a ride originating in Nacogdoches, Texas. It begins midpoint on the Mississippi River Bridge/John R. Junkin Drive and continues through downtown. Later, you'll see some very interesting places.
An important stop for bikers, later on the way, Historic Jefferson College offers a look back into Mississippi history.
The Natchez Trace Parkway, which I found by accident, is a beautiful scenic route for bikers which bypasses US-61 for about 40 miles and is my highly recommend way into Vicksburg. This age-old trail, which continues all the way Nashville, Tennessee, is actually 444 miles long and follows the path of the ancients.

View Natchez, Mississippi to Vicksburg in a larger map
Here's a written list of this travel destination covering my route through western Mississippi.
Total: 73.2 mi - about 1 hour 58 mins
1. Enter Mississippi on John R. Junkin Drive US-425 S/US-84 E
2. Turn left onto S Canal St
3. Turn right onto Franklin St US-61 BUS N
4. Continue to follow US-61. (Franklin St becomes US-61 N/Devereaux Dr)
5. Travel about 5 miles and turn left onto Jefferson College St
Arrive at Jefferon College
6. Turn left onto US-61 N
7. Take Natchez Trace Pkwy exit from US-61 and turn left onto Pkwy.
8. Exit Natchez Trace Parkway on right toward US-61 N
9. Turn left back onto US-61 N
10. Slight left onto US-61 BUS N
11. Turn right onto Crawford St
12. Take the 1st left onto Walnut St
Arrive at Relax Inn, Vicksburg
---
As I started out the day in Nacogdoches, Texas, I traveled through some thick fog and coolness. However, as the day progressed, the heat wave that was sweeping half the nation in the summer of 2011, continued and burned off the moisture. As I worked my way out of Texas and through Louisiana, The temperatures climbed into the 90's accompanied by thick humidity too.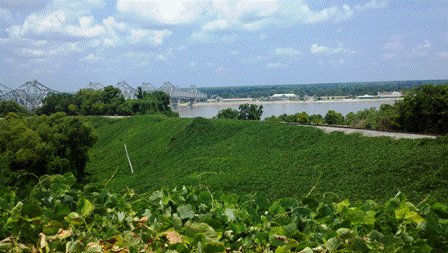 I entered Mississippi on the John R. Junkin Drive Bridge over the river and immediately into Natchez. I'd say it was less than a mile before I made a left onto S. Canal Street and stopped off at the Visitors Center right on that corner.
There were some excellent views of the Mississippi river and the large bridge that I just crossed which demanded that I take some photos.
After the visitor center, I was off to explore the spectacular downtown area of Natchez. It's known as the city on the bluff and takes its name from the Natchez Indians. This Native American Mississippian culture is known to have existed in the area as far back as the 8th century.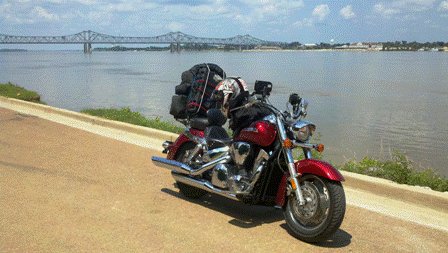 The downtown tour is shown in the video but not on the written directions. I rode through the area on Broadway, Canal, Commerce and Washington streets. Here you'll see grand old antebellum mansions almost everywhere, and if you let your mind wander, it'll take you back to a different time, rich in southern wealth and nobility, with all its greatness and faults.
Leaving town on US-61 will take you on a northern tack. After traveling about five or so miles, you'll be in Washington, Miss. and you'll come upon some signage indicating "Historic Jefferson College" on the left. This is a fine stop on the way, and free admission makes it well worth exploring. Hours of operation are 9 a.m. to 5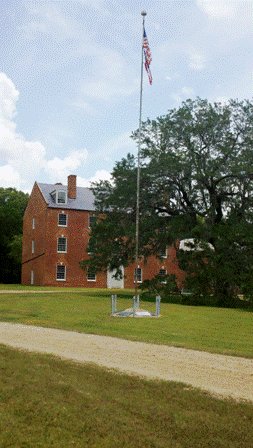 p.m. Monday-Saturday and 1 p.m to 5 p.m on Sunday.
It's listed on the National Register of Historic Places and was started as a private military preparatory college in 1866 that was patterned after West Point.
Jefferson College was Mississippi's first institution of higher learning and continued in operation until it finally closed down in 1964.
The town of Washington was the early state capitol of the Mississippi territory from 1802 until 1877.
One of the classrooms before renovation in 1830, used to be a Methodist church. It was this church that housed the Mississippi Statehood Convention in 1817.
Unfortunately, a storm destroyed the building in 1873 and all that remains now is a monument to Statehood which was erected in 1935.
There is also a nature trail on the grounds, and for those interested in botany, there is a small pamphlet indicating all the different flora and their locations for easy identification.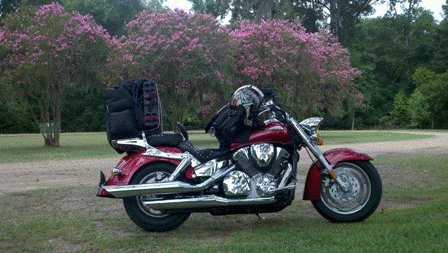 Personally, I'm not much into botany, but I did notice some gorgeous Pink Flowering Dogwood trees upon entering the grounds. Using the backdrop of these trees made for an excellent photo of my bike.
The College was also used as a movie location for a few Hollywood movies. The Horse Soldiers (1959), Huckleberry Finn (1973), North and South (television mini-series, 1985), and The Adventures of Huck Finn (1992). The costs of burying all the sites overhead power and telephone lines as well as helping to maintain and restore the old historic buildings was paid for by income from filming.
When I left Jefferson College, I was expecting to take US-61 on up into Vicksburg, but I saw some signs for the Natchez Trace Parkway and couldn't resist. I saw that it went north too and figured that my GPS would auto correct and get me to my destination anyhow, so, off I went.
The parkway meanders through the cradle of the Mississippi region and is really over 400 miles long as it travels from Natchez to Pasquo, Tennessee, which is about 20 miles southwest of Nashville, Tennessee.
It traces the main trail that was used for centuries as a means of travel and commerce throughout the region. I'd like to come back and ride the whole thing some day.
My introduction to it lasted about 40 miles and it was gorgeous! There's something about manicured and maintained parkways, coupled with some knowledge of their history, that make for great riding.
To get to Vicksburg, you'll have to jump off the parkway and get back onto US-61 just south of Port Gibson. From there it's about 40 miles to Vicksburg.
I stayed in the heart of downtown in a 5 story hotel called the Relax Inn. Entering the room I noticed that it was ice cold, which was great because I'd been riding in sweltering heat and humidity for almost the entire day. The room was also, clean, comfortable, and spacious.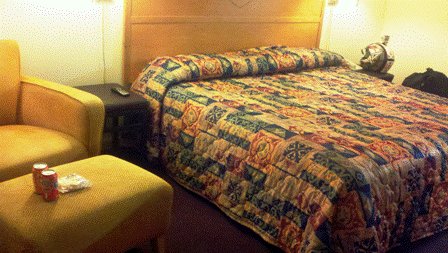 The views of downtown are really great from the 4th floor and as far as I could tell, I was the only occupant on that floor and maybe in the whole hotel.
I checked in and took the elevator up to my room and unpacked.
Later, since I noticed that the whole place seemed empty, my curiosity got the better of me and I went back down and spoke with the owner.
He was a kind and friendly guy, and he told me that the economy is really hurting business and as a result, he had to really lower his prices.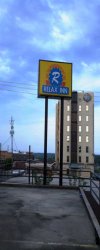 At $44.00 total for the room, I felt like I got a screaming value for my money. I felt sorry for him, because he offers a great place at a great price with covered garage parking and he's hurting.
There were only two downsides to the room. First, the Wi-Fi signal was very weak and second, the TV signal was weak too. It seemed that the only channels available on the TV were local channels. Probably from an old style roof mounted antenna.
But, that really didn't matter since I was pretty whipped and need to unwind and go to bed early. I totally missed out on exploring the downtown area and finding a restaurant. I resigned myself to getting a few snacks from the vending machine and crashing.
Overall, if you're going to be in Vicksburg, and if he's still in business, I'd recommend that you get a room there. The rates are great and still, I believe you won't be disappointed.
To watch Youtube Videos, Click Play Button In Center Of Image