PARKWAY TO VIRGINIA ROAD TRIP
This Ride, entitled Parkway to Virginia is last leg of the The Blue Ridge Parkway through North Carolina. It travels from West Jefferson to the Virginia state line. It's only a short distance to Virginia from the staring point and I decided to depict most of the video in time-lapse for fun.
You can follow along in the Map below and get typed directions too.
---

View West Jefferson, NC to Virginia State Line in a larger map
PARKWAY TO VIRGINIA RIDE DIRECTIONS
Starting from the Nation's Inn on Beaver Creek School Rd
1. Head northeast on Beaver Creek School Rd toward S Jefferson Ave
2. Take the 1st right onto N Carolina 194 S/US-221 BUS S
3. Continue onto N Carolina 163 S
4. Turn left onto Boggs Rd
5. Slight left to stay on Boggs Rd
6. Continue onto W Reno Rd
7. Turn left onto Glendale School Rd
8. Turn right onto J W Luke Rd
9. Slight left onto Trading Post Rd
10. Slight right to stay on Trading Post Rd
11. Turn right onto Pony Farm Rd
12. Sharp left onto Blue Ridge Pkwy
13. Turn left onto the ramp to N Carolina 18 N
14. Turn right onto N Carolina 18 N
15. Turn right onto US-21 S/S Main StContinue to follow US-21 S
16. Take the exit toward Blue Ridge Pkwy
17. Turn right onto Blue Ridge Pkwy
Arriving at Blue Ridge Pkwy/ Virginia State Line
Total: 55.0 mi - about 1 hour 40 mins
---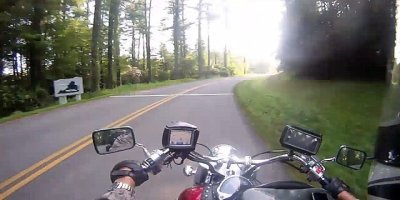 On this, The Parkway to Virginia ride, another cool and balmy morning in the Great Smoky Mountains greeted me at the beginning of the day for a picturesque ride to Waynesboro, Virginia.
Waynesboro is the terminus of the Blue Ridge Parkway and was my final travel destination for the day. This particular portion of the ride ends at the Virginia state line, but you can see the rest of the trip on the Virginia page as soon as it's published.
The morning fog filled the air and hung in the low parts of my route and I frequently had to wipe my face shield and camera lens for a clear view. Fortunately, it only affected me for a few miles and then cleared enough to not be an issue.
You will notice on the google video below that the fog inhibited views for a little while but wasn't wet enough to cause me problems where I'd have to don the rain gear.
One interesting thing about this portion of the Parkway to Virginia trip was the routing that my Garmin GPS chose. I had it set for shortest distance and it routed me out of West Jefferson, North Carolina in a way that I didn't expect. It had me going down back country roads, through rural neighborhoods, down dirt roads and over a one lane, plank bridge with no railing. This was a pleasant bonus even though it was difficult to trust the GPS as the road surfaces became primitive, but, low and behold, I connected with the Parkway and resumed the trip.
Since it was early in the morning, traffic was very light on the Parkway and this added to the overall enjoyment of the ride and made good material to add to the travel videos collection of Road-Trip-Bikers.
There was a detour off the parkway near Laurel Springs, which was about 20 or so miles. It went north to Sparta then east to re-connect with the Parkway. Coincidentally, about a half mile from the detour exit was a motel that caters to bikers called Stations Inn. I had read about this place and wanted to stay there, but when I tried to make reservations, they said they were all booked up. Oh well.
The detour worked out well for me anyway, since I was able to fuel up, get a bite to eat and use the services in Sparta.
Once again, I sincerely hope you all enjoy the time-lapse video and the music on The Parkway to Virginia Ride, and remember to keep checking back for more great videos and information.
---
Click Play Button In Center Of Image To Watch Video


Return From The Parkway To Virginia Ride to North Carolina Road Trips



Return To Road Trip Bikers