SS BADGER SHORTCUT
The SS Badger shortcut connects Luddington, Michigan with Manitowok, Wisconsin.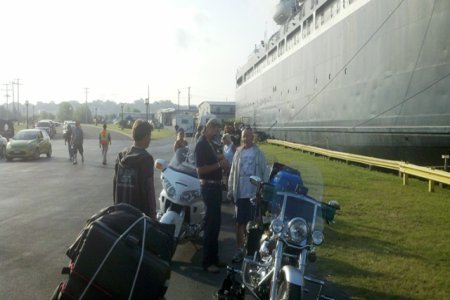 Traveling at around 15 knots, the four hour trip will save you at least 3 hours, but the mileage is where you really save.
To ride down through Chicago and back up is 411 miles and to reach the same spot via the Upper Peninsula is 508 miles, but the Badger trip is only 61 miles.
This Lake Michigan Ferry adds a whole new dimension and lots of fun to a biker road trip. The cost of riding the Badger is about the same as an extra day on the road and the extra night's stay in a motel, so financially, it's a wash.
I was the first bike in line to board along with about 25 or 30 others and we were all going to Sturgis. If you're heading to any biker rallies like Sturgis and are coming from the east I highly recommend taking this ferry.
---

View S.S Badger in a larger map
RIDE DIRECTIONS
These directions are simple...
1. Take US 10 to either Luddington, Michigan or Manitowok, Wisconsin.
2. Board S.S. Badger.
3. Relax.
Actually, to find the location of the dock within either city, zoom in on the map.
---
The SS Badger is the last coal-fired steamship in service in the United States connecting Luddington, Michigan with Manitowok, Wisconsin.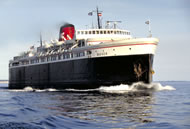 She comes in at 410 feet in length with a 59 foot beam and sits 106 ft 9 inches (7 stories) high. Built in 1952 and put into service in 1953, she is the largest car ferry to ever sail lake Michigan. Her original mission was principally to carry rail freight cars for the Chesapeake and Ohio Railway. During this time she also carried passengers in top rate accommodations and was considered the "Queen of the Lakes".
By the 1980's, economic conditions were slowly taking their toll on the car ferry businesses and finally caught up with the Badger. Her last voyage was in November, 1990 when she was taken out of service. Ferrys had been operating on Lake Michigan for over 100 years and the fate of the last surviving Great Lake ferry seemed to have been determined.
Fortunately, in 1992, an entrepreneur/philanthropist from Holland, Michigan by the name of Charles F. Conrad -a native of Luddington- stepped in and bought the SS Badger. He refit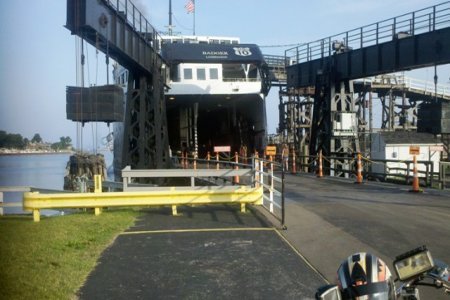 her to carry passengers and vehicles and she was put back into service in May of that year.
His idea was to change her primary mission to cater to the vacation traveler with around 450 crossings per year.
Although she has a reinforced hull with ice breaking ability, the business model is to run seasonally between May and October with daily departures.
Thankfully, she is still in service to this day and delighting passengers with a unique and historical way to cross the lake. The Badger is capable of carrying 600 passengers and has a crew of 50 to 60 on each crossing.
Below decks and off limits for the duration of the trip, are up to 180 automobiles, motorcycles, tour buses, RV's and commercial trucks.
Inside you can find something light to eat at the snack bar or get a full meal at the buffet. Wander around to discover the gift shop, video arcade, quiet room/museum, children's playroom, two TV lounges, and a movie lounge. There are also 40 private passenger staterooms equipped with sleeping berths.
There is plenty of room outside on the deck areas. The bow area has lots of chaise lounges scattered about and the other areas have chairs and places to take in the view from the rails.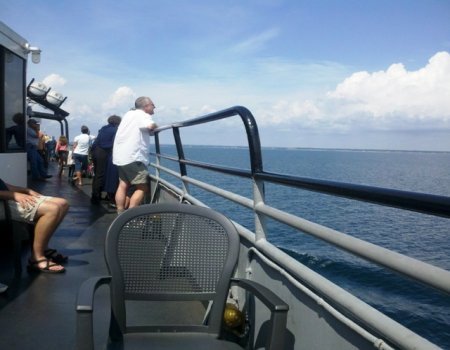 Head back inside and discover the aft end and the upper deck lounges.
The SS Badger's propulsion system is considered a national mechanical engineering landmark by the American Society of Mechanical Engineers and she is registered as an historical site in both Michigan and Wisconsin.
She is also listed with the National Register of Historic Places as a place of national significance.
Unfortunately, there are environmental extremist groups seeking to destroy this great ship and put her out of business along with her economic benefits to many communities and fuel/time savings enjoyed by her passengers. Which by the way, numbers in the hundreds of thousands. In the narrow minds of some, coal is BAD. Coal ash is BAD, and Coal smoke is BAD. If they see anything but crystal clear skies devoid of all things made by man, they assume that some evil, robber-baron, villain is getting rich off exploiting the environment. Sadly, we see this basic extremist attitude in more and more places in our country.
The SS Badger does dump its ash directly into the lake daily and the extremists (Dick Durbin) point to this, jump up and down, wag their fingers and scream bloody murder! It's the politically correct thing to do, especially if your objective is to create a communist utopia. (sorry for the rant)
However, it's been proven that coal ash runoff does NOT present any toxins to humans or animals beyond the acceptable standards. Even the Mighty EPA has not classified coal ash as hazardous waste. And further, coal ash is already used in farming applications (70 million tons annually) to increase crop yields and stabilize soils. For more on this topic refer to "Is Coal Ash in Soil a Good Idea?" By Matthew Cimitile -Scientific American- February 6, 2009.
Make the S.S. Badger part of your road trip. It is great fun and will help ensure this historic icon will remain in service for future generations.
Click the link below for the SS Badger Schedule and Fares

Click Play Button In Center Of Images To Watch Youtube Videos
---
---