Should You Have A Tire Inflator
And Emergency Tire Repair Kit?
Answer: An Emergency Tire Inflator is something you should have! What will you do if you get a flat tire? Call AAA?
Actually, being a member of a club like AAA is a great idea. AAA offers an excellent roadside assistance plan for motorcycles and I signed up a few years ago. It's only around a hundred bucks a year. "Peace of Mind"
But, what if you're not anywhere near a cell tower and nobody is around? You need a backup plan with the ability to quickly fix the problem and be on your way.
I've got a sweet compact kit for just that. The Ultraflate Plus by Genuine Innovations.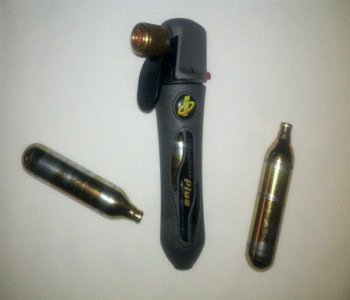 It uses threaded and non-threaded CO2 cartridges (except 45 gram)to fill your tire.
I carry 3 cartridges for good measure. All you have to do is place the cartridge into the cup and screw on the top. As you tighten it a small pin pierces the cartridge.
Then just attach it to your tire valve, unlock the safety and pull the trigger to release the CO2 into your tire. But, first you need to repair the tire.
There are many repair kits out there. The Pocket Tire Plugger for All Tubeless Tires by Stop and Go. This device received the Rider Magazine "Product Innovation Of The Year" in 2004. It installs mushroom shaped rubber plugs into tubeless tires without the need to dismount the tire.
I just have a simple plug kit with some rope style plugs with a sticky coating, rasp, and plug puller.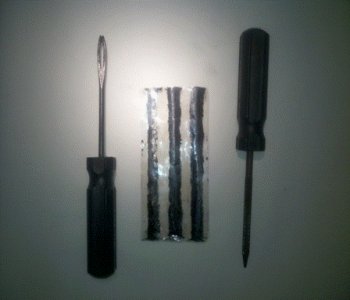 First, You have to inspect the tire and find the cause of the flat. (Nails, screws, pieces of metal etc.)
Remove the object with pliers or if it's a screw, make sure to use the screwdriver. No need to damage the rubber by yanking it out.
Clean the area as best as you can and insert the rasp tool. Run it through the hole a couple of times to rough it up.
Remove one piece of coated rope and clip it in the clasp of the insertion tool. This is like threading a needle. Then push the plug all the way into the tire.
Now pull the plug back out through the hole while twisting it until about a half inch is visible outside the tire. Remove the insertion tool and cut plug flush with the tread. This helps to prevent the plug being pulled out.
Ok, air it up with the tire inflator as described earlier and you are on your way with minimal downtime.
I always carry these useful tools with me on long road trips, however I recently got a flat on a 300 mile day trip in my home state. And wouldn't you know it, I didn't bother to pack my Ultraflate Plus. This could have turned into a call to AAA and a long wait.
Fortunately, I did have my tire plug kit and my bro Brad had a small air compressor in his saddle bag. Whew! From now on I'll be bringing my complete kit EVERYWHERE. You never know when a tiny machine screw will screw up your day.
Safety note:
Make your way to a repair center as soon as practicable.
Never put more than one plug in a tire quadrant and never put more than two plugs in any tire.
Slow down! Keep your speed down on the way to service.


Return from Tire Inflator to Planning A Road Trip



Return to Road Trip Bikers