ARIZONA CENTENNIAL RIDE
The Arizona Centennial Ride began at Mesa Riverview and traveled in a continuous line of motorcycles to the Arizona State Capitol in downtown Phoenix.
As riders from 21 states and Canada waited their turn, they were finally marshaled out of their staging areas (parking lots) by event organizers and made their way in staggered formation out to the freeway. Each according to their time of arrival.

Exiting near downtown, the heart of Phoenix was abuzz with electricity as the streets were closed off to other traffic and the gigantic, rumbling, 15 mile long, snake made its way past cheering crowds to the State Capitol.
It was amazing to see the massive number of bikers that turned out for this event.


RIDE DIRECTIONS
Ride began at 2:00 p.m.

From Mesa Riverview's Bass Pro Drive, Turn Right onto Dobson Rd.
• Transition onto AZ 202 Loop (west)

• Proceed west on AZ 202 for approximately 10 miles; keep left at fork and follow signs for I-10 west/Central Phoenix/Los Angeles.
(AZ 202 Loop west merges into I-10 west)

• Exit 145 B/3rd Street; 3rd Street exit is ah HOV lane with a left lane exit.

• Turn left proceeding south.

• Keep right at fork and continue on 3rd St to Washington

• Turn right onto Washington St. heading west.

• Proceed to State Capitol.
Total Miles: 14.7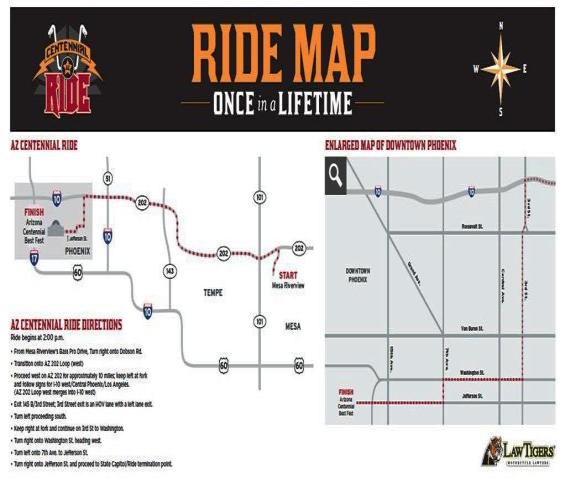 ---
THE ARIZONA CENTENNIAL RIDE
We started out the day by meeting up at The Tinder Box in Mesa at 10 a.m. Rocky, Tammy, and Brad hung out with me while we smoked some cigars, drank some coffee. After about an hour or so, decided to head on over to Mesa Riverview. The ride didn't officially start till 2:00 but we got there at about 11:50. The whole place was almost filled up with bikes. The main road into the complex was packed and the parking lots were rapidly becoming full too.