BEST ARIZONA ROAD TRIPS
Welcome to Arizona Road Trips. We're so glad you're here!
Arizona Flag and the Official Seal of the State of Arizona

Arizona Map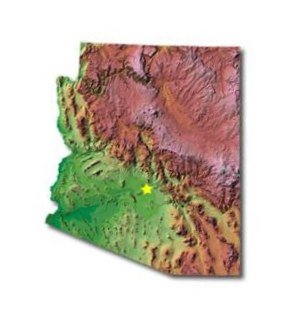 ---
Arizona is just about the best State for bikers who love riding. Call me biased because I live here, but there are an average of 300 days a year of sunshine and the most beautiful, diverse topography and regions anywhere.

There are deserts, high plains, and pine-forested mountains, the coolest old mining towns, ghost towns, historical sights, cities, lakes, rivers, and national monuments.

Naturally, there is The Grand Canyon, The Painted Desert, The Petrified Forest, and the Meteor Crater, just to name a few.
On this page you'll find many excellent travel videos of Arizona Road Trips that can be found in the links below.

During the coldest months - December, January and February - the daytime highs in the lower desert areas are in the 60's and 70's. The mountain regions are likely too cold or even covered in snow. But, if you don't mind the temperatures up there, the roads are usually clear and dry allowing for brisk rides.

Since I live in the desert portion -the lower half of the state- I ride almost all year long. I can handle the cold and rain too, but not both. On those few days where it's cold and wet, I'll regrettably drive my cage, but the vast majority of my time on the road is on my bike.


Of course, Arizona road trips in the heat of the summer months can be murder, but that's only in the lower half of the state. During the summer it's preferable to ride in the mountainous regions or what the locals call the "rim country".

If you happen to be forced to ride through the deserts, like I am, (My commute to work is 30 miles each way) you'd better keep yourself hydrated and cool.

I can ride short distances in the heat with my
Climatech Cool Vest
.
This vest has many little packets of gel which freeze, so just throw it in the freezer for a couple of hours and it's good for about 30 minutes of coolness when it's 110° or above and freeway speed is a constant 75 mph. I used it during my commute to work and the only thing I can say it that it kept me from dying.

At these temperatures and speeds, it's like standing in front of a giant 1500 watt hair dryer. To give you an idea of what it's like, if you were to soak your clothes in water (I mean soaking, dripping wet!) then jump on your bike, you could travel about 15 miles before you are completely dry.

Last summer, on my annual road trip, I met some bikers at a gas station in southern Utah who had traveled from California and through Arizona that day. They said it was terrible and they had to stop every 20 miles or so to slam fluids. Their route took them through Bullhead City, Arizona which is consistently the hottest place in the nation. That day it was 118°!

So, a word to the wise... if you're travel destinations involve a southern Arizona road trip in the summer months, (June - August) it is not advisable unless you're in tip-top physical condition or just got back from Iraq. You can beat the heat if you travel in the early morning, late evening, or at night.

However, don't let this warning put you off Arizona. Nine months of the year the desert rides in Arizona are stunning. Check out the links to YouTube videos below and see what I mean.