Kawasaki KLR Road Trip through the Salt River Canyon
Kawasaki KLR Road Trip through the Salt River Canyon in Arizona. The trip was submitted on June 16, 2012 by Chief 2 Dogz.
---
---
RIDE DIRECTIONS
1. From Globe Arizona
2. E. Ash Street/ US-60 Eastbound.
3. Continue Left on US-60 / Arizona State Route 77 (Northbound)
Arriving Salt River Canyon34.8 miles
---
The Salt River Canyon is located 3 hours from Phoenix and about 40 minutes north of Globe, Arizona on US-60. The actual distance through the screnic part, with step grades and hairpin curves is only 9 miles from rim to rim.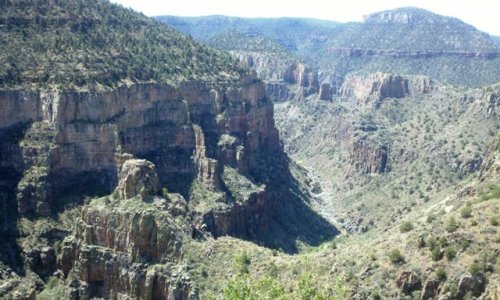 Don't let the short distance fool you into thinking it's boring. This ride is far from that!
I think it's one of the more spectacular rides in Arizona. It's known as the "Mini Grand Canyon" and has many similarities.
US-60 winds down the south rim, through tight switchbacks, 2000 feet to the Salt River below. There are several lookout areas to pull over and take in view.
Although the road wide and fine shape, you'll need to pay attention. It's real easy to get distracted with all the magnificient views. The steep grade and twisties can sneek up on you very fast.
At the bottom, there is parking near the bridge where you can stop and hike some paved trails or check out the visitors center. There are also restrooms and water. Some say there is a gas station and a small store down there too, but as far as I remember, that place has been out of business for many years, so make sure fill up in Globe.
Finding the right gear is difficult heading up the other side as other travelers may be slower than you. There'll be a lot of up and down shifting. Fortunately, there are a few passing lanes on both sides allowing you to scoot by any slow pokes.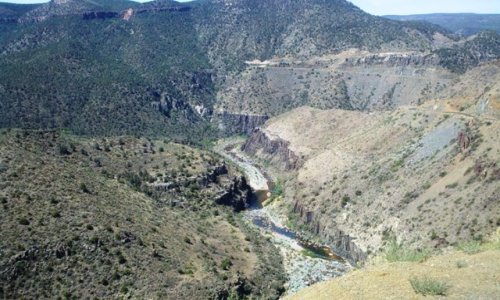 I think the north side affords much better views from the pullouts and have included some of my own pics on this page.
They were taken in July of 2011 and you'll notice that there is very little water in the river.
This may appear odd to visitors not from Arizona, but is quite normal. As the summer heats up, many rivers in this state become trickles or completely dry.
It's very exciting to have Chief 2 Dogz submit his road trip details and a cool video of his ride through the canyon on his 2008 Kawasaki KLR. According to him, it was taken on his road trip from Phoenix, Arizona to Austin, Texas. He also informs me to expect more road trip submissions with Youtube Videos of other great rides he's been on.
The perspective from his dual sport KLR is quit different than a lot of us get from our cruisers. For example, he can get way more bank angle into and through tight curves and his video illustrates this quite well. I'm also kind of jealous of this ability to get far off the main roads where we cruiser riders wouldn't dare to tread.
Click on the play button in the center below to see Chief 2 Dogz's ride through the Salt River Canyon!
---
---


Return From Kawasaki KLR Trip to Arizona Road Trips



Return From Kawasaki KLR to Road Trip Bikers Home Page