TORTILLA FLAT
TORTILLA FLAT
As far as Arizona day rides go, this one is kinda short but it's still a lot of fun and makes for great travel videos, Plus,you can burn up almost the whole day.

View Highway 88 to Tortilla Flat in a larger map
1. Take US 60 (Superstition Fwy) East to Idaho Road.
2. Head North on S Idaho Rd 1.9 miles to AZ-88 (Apache Trail)
3. Right (NE) on AZ-88

Travel approximately 19.8 miles. Time: 29 Minutes.


This ride is one of the more popular Arizona road trips from the East Valley.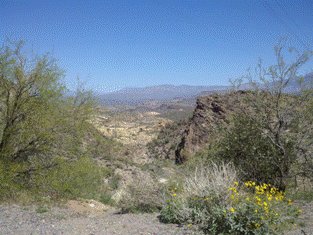 The distance is short, but the road is neat and the travel destination (Tortilla Flat) is cool.
There are about 10 miles where the road is very twisty and you'll have to slow down in the corners.
The pavement is also kind of worn out from all the traffic and has parts where it looks like someone poured gravel in the road so bikers: you should not grab a big handful of that front brake and be careful.
The scenery is magnificent Sonoran desert with all the flora you would expect.
Mighty Saguaros dot the landscape as well as Ocotillo, Palo Verde, and Cholla. Once you get out of Apache Junction, you'll notice the majestic Superstition Mountains to your right.
They say that this mountain is mysterious and never looks exactly the same from day to day. Sometimes it will look far away and other times it will look near.
The road gets curvy just as you enter the Goldfield Mountains with steep ravines, hairpin corners, and a few excellent viewpoint areas to pull over for pictures.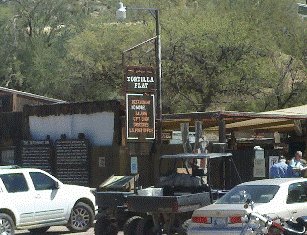 Once you reach Canyon Lake you'll need to be ready for (2) one lane bridges.
And watch out for side traffic from the lake users. The road hugs the shore line here, and is quite beautiful.
This is the main lake area and the view is spectacular with high mountain cliffs that touch the water.
Hence the name: Canyon Lake.
There are pullouts here too for viewing and pictures. Then it's on to Tortilla Flat.
Before you stop, I recommend you check out the road past the "Flat".
Unless you're very comfortable riding on unpaved road through steep, narrow mountain grades, you'll only want to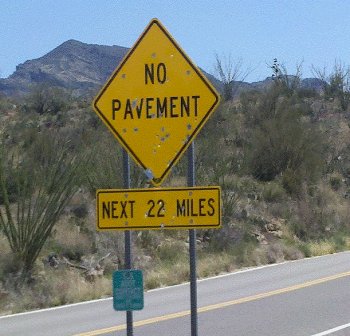 travel about 7 miles up. After that, the road turns to dirt for the remainder of Hwy. 88.
But, what a scenic ride! Be extra careful here because there are a few places where there is no guard rail and it's a long way down!
Don't be alarmed, it's not that bad and I'm sure you be glad you did it.
The day I did the ride, it was a sunny, beautiful, late March day, with just a slight chill in the air.
I wore a sweatshirt but had to shed it around noon as the temperature climbed to about 83°.
Even though it was a Monday, there were still plenty of tourists traveling the road and whole town of Tortilla Flat was bustling. Tortilla Flat Restaurant was full too. There was a significant wait and the hostess called out party names on a loud speaker, so, I grabbed an ice cream cone and chilled back for awhile.
The restaurant has outdoor seating and had a band playing so I listened while wandering around, in and out of the gift shops and buildings.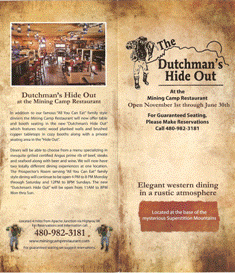 On the way back from Tortilla Flat I stopped off at the historic Mining Camp Restaurant. I recommend a lot of restaurant travel destinations and this is surely one.
Since it opened many years ago, the Mining Camp was an all you can eat, family style place where world famous Barbeque Beef Ribs, Baked Chicken and Dressing, Ham and all the fixn's were served up on tin plates and cups and everyone sat at long Ponderosa Pine tables and benches.
However, they recently opened up a separate and unique new restaurant within the original one. It's called the Dutchman's Hide Out and has a lunch and dinner menu with a bar that serves beer and wine.
The Hide Out is a bit different than the main dining room. In there are tables and booths where you order from a well crafted menu. It's tastefully decorated and has a classy but rustic ambiance.
Ray, the Head Chef, is a good friend of mine and he suggested I order the Prime Rib Sandwich. It was delicious and came with seasoned fries, horseradish, and au jus. Yummy, and just enough to fill me up.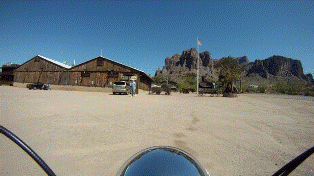 If you're riding hard and starving, you may want to get stuffed on their world famous Prospector Dinners.
Or, you may want to try the Dutchman's Hide Out and have yourself a great lunch or dinner in a special restaurant within a restaurant.
The Mining Camp is nestled at the foot of the Superstition Mountains with close up views of the mountain and a western town facade. There is plenty of history here and they also have a huge gift shop. Turn off AZ 88 on Mining Camp Road and head east towards the mountain.
The Hide Out is open 11 AM - 8 PM, The main restaurant is open Monday-Saturday 4:00 to 8:00. Sundays & Holidays 12 Noon to 8 PM.
The Mining Camp is seasonal and is open November 1 - June 30 and this place can get pretty busy so reservations are recommended. 480.982.3181
Watch Youtube Videos Below. Click Play Button In Center Of Image
Return From Tortilla Flat to Arizona Road Trips


Return to Road-Trip-Bikers