ROOSEVELT LAKE TRIP
Roosevelt Lake
Arizona road trips are excellent and here's another one that will take you the whole day.



View Roosevelt Lake Trip in a larger map
1. US 60 East (Superstition Fwy) to Superior. (49 Miles)
2. Take the AZ-177 exit. Right (South) on AZ-177 through Kearny, Hayden and Winkleman. (31.6 Miles)
3. Left (North) onto AZ-77 N (signs for Globe) To US-70. (32.9 Miles)
4. Turn Left At US-70/60 (West) and remain on US-60 through the town of Globe to AZ-188 N/Apache Trail (7.12 Miles)
5. Turn Right (North) on AZ-188 /Apache Trail past Roosevelt Lake to AZ-87 S/S Beeline Hwy (57.2 Miles)
6. Turn Left (South) on AZ-87 Beeline Hwy to Country Club Dr. (57.2 Miles)
Total Miles: 239
This is one of my favorite Arizona travel destinations for bikers. It will take you all day to complete if you like to stop frequently to soak up all the gorgeous scenery.
Start off in Mesa and go east on US 60 to Superior. Superior is an old mining town. The Superior mine is located here and is owned by the Resolution Copper Mining Corporation.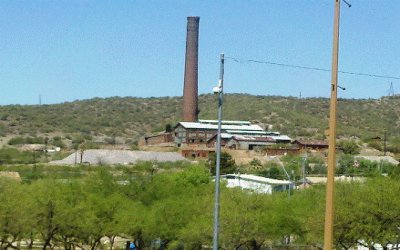 They recently discovered what they believe to be one of the largest copper ore bodies in North America.
The mining of this body is still in the planning stages but, when they are ready to go forward the copper will be extracted through an automated process.
The work will be performed 7000 feet below the surface where the temperature is too extreme for men. The technique they will use to mine this massive copper ore body is called Block Caving. Continue this Arizona ride south on Arizona 177 towards Kearny. Before you get to Kearny,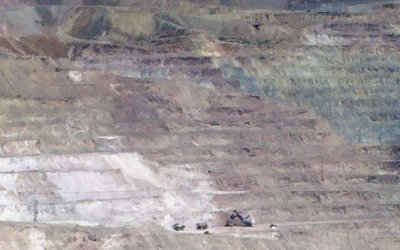 make sure to pull off the highway and check out the Asarco-owned Ray Mine and include it in your travel videos.
This is a gigantic open pit mine and one of the largest in the world. From the road you can see the massive shovel loaders and trucks way down below.
This picture was taken with a telephoto lens, yet they still look like little ants from here. And you know they are monstrous up close. The trucks alone have tires that are 15 feet in diameter!
That's the size of the equipment necessary to pull out 250,000 tons of crushed ore per day! You can view operations every day from 7:00 am to 2:00 pm or until dusk.
As you travel southward, you'll pass by the town of Kearny. Further south are the towns of Hayden and Winkleman. Here are copper smelters that are in production today.
Travel north up Arizona 77 and expect some more gorgeous scenery. There is a pullout about two thirds of the way to Globe. It's a beautiful vista called El Capitan Pass.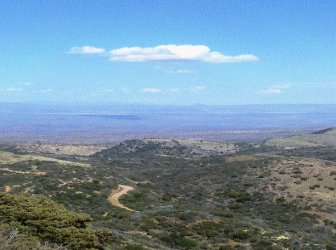 From here you can see 75 miles to the north and east. This is the San Carlos Apache Reservation. The day we went, it was very windy and the temp cooled off enough to require putting on a sweatshirt.
There is a marker here erected in 1964 by Arizona Development Board and Arizona Highway Department.
The inscription reads: "This pass was used by Kearny's Army of the West in a march to California in 1846. Guided by Kit Carson it was described in a journal of the trip as "Carson's Old Trail". The pass led around the impassable canyon on the Gila River where Coolidge Dam has been constructed."
We headed north on Arizona 77 to US 60 and into the mining town of Globe. We had lunch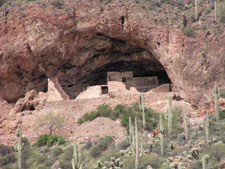 here and then jumped on Arizona 188 (the old Apache Trail) towards Roosevelt Lake.
There is a neat place to see south of the lake. It's called the Tonto National Monument and it's about a mile south of the highway.
The Tonto is ancient cliff dwellings that are over 700 years old and were occupied by the Salado people during the 13th, 14th, and 15th centuries.
These people lived in and around this area and numbered around 1300.
The park is open Daily, 8:00 a.m. - 5:00 p.m. except Christmas Day. Lower Cliff Dwelling trail closes at 4:00 p.m.
If you want to hike up the trail to the cliff dwellings there is a 3 dollar fee. We just parked in the lot for free and took our pictures there.
As you are leaving there is a perfect view of this jewel in the desert. Roosevelt Lake.
Roosevelt lake was formed after Theodore Roosevelt Dam was built in 1911 to harness the Salt River. The lake is the first in a chain of four lakes that make up the Salt River Project.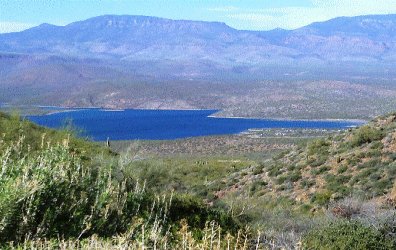 The dam was raised recently and a few good years of heavy runoff have filled it to heights never before seen. When the dam is in flood control mode, there can be up to 2,910,200 acre feet of water.
The lake is over 22 miles long and the road runs very near to it for most of this distance. At it's widest it is about 2 miles wide and has a depth of 350 feet.



Click Play Button In Center Of Images To Watch Youtube Videos
Return From Roosevelt Lake To Arizona Road Trips



Return to Road-Trip-Bikers