TOMBSTONE ARIZONA ROAD TRIP

TOMBSTONE
"The Town Too Tough to Die"
For travel destinations from Phoenix, this ride is right on the edge of an over-night trip. It's a good clip down there and, unless you're prepared for a 10 to 12 hour day, you'd better make reservations.
Besides, you'll want to explore the town anyway.

View Phoenix - Tombstone in a larger map
From: US-60 E
1. Head east on US-60 E/Superstition Fwy (38 miles)
2. Take the AZ-79 S ramp to Florence, AZ and continue on AZ-79 to AZ-77 (58.2 miles)
3. Turn Right at AZ-77 S on Oracle Road to Speedway (23.2 miles)
4. Turn Left at Speedway E to Kolb Road (8.0 miles)
5. Turn Right at Kolb Road S to I-10 (9.2 miles)
6. Turn left to merge onto I-10 E toward El Paso to exit 281 for AZ-83 S (11.2 miles)
7. Merge onto AZ-83 S/S Sonoita Hwy to AZ-82 Sonoita (25.1 miles)
8. Head east on AZ-82 E to AZ-80 (35.1 miles)
9. Turn Right on AZ-80 E and bear left at Fremont St (3.3 miles)
Arrive with Total: 214 miles
WOW! This road trip is well worth the time.
Taking the back way to Tombstone is much better than traveling on the interstate so this trip will limit Interstate travel as much as possible.
Start out in the East Valley on US 60 to Apache Jct. The views are beautiful out here. The Superstition mountains are gorgeous and you'll be able to see this mountain range all the way back to Superior, Arizona. This is also known as the Superstition wilderness and has 159,757 acres. It lies within the much larger Tonto National Forrest. The Tonto contains nearly 3 million acres and is the 5th largest National Forrest in the United States.
As you approach Gold Canyon Ranch, the Superstition Freeway (US 60) ends and becomes a two lane divided highway. Turn south on Arizona 79 at Florence Jct. This straight stretch of road takes you to Florence Arizona. It's interesting to note that the entire area to the east of AZ-79 is an Arizona National Guard artillery range. Entry is permitted except on days when the range is active. There will be red flags flying at the entrances here when the range is "Hot".
Entering Florence you will see the Arizona State Prison on the left. The downtown area is located about a half mile to the west.
As you continue south the road will curve to the southeast and is called the Pinal Pioneer Parkway. This stretch to Oracle Junction is about 40 miles and at just about the half way mark, you'll find the Tom Mix Monument.
Tom Mix starred in many early westerns, of which most of them were silent movies. He died on this spot in 1940 when he crashed his yellow Cord Phaeton into the nearby wash which now bears his namesake.
Before the Interstate, the Parkway was the only way from Phoenix to Tucson, It cuts through expansive, virtually virgin, scenic, high sonoran desert.
At Oracle Jct you'll head south through Oro Valley to Tucson. On the left are spectacular views of the Santa Catalina Mountains. Mount Lemmon is the highest point at 9,157 feet. This elevation allows for lots of snow (180 inches annually) and hosts the Mount Lemmon Ski Valley which is southernmost ski destination in the United States.
You'll slowly be entering the outskirts of Tucson now, so be prepared for lots of traffic lights. As you near the heart of the city you'll take a left on Speedway Blvd. which goes right through the University of Arizona campus.
Travel east on Speedway to Kolb road. The reason for all this city street travel is to route you by the Davis Monthan Air Force Base.
In addition to being an active base, Davis Monthan is also used as a storage site for hundreds of decommissioned aircraft. (Maybe you've seen this in the movies) The dry climate makes for an ideal site to store and preserve these these fine old aircraft. It's commonly referred to as a bone yard, but these planes are actually capable of being re-commissioned if needed. You can see acres and acres of these planes right from Kolb road and this route was chosen for exactly that, besides, Kolb takes you right to I-10.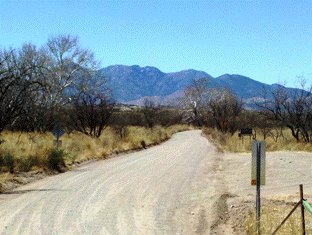 Jump on I-10 and head east for 11 miles and take the Sonoita/Patagonia exit to the south. This is Arizona 83 and covers 25 miles through high desert grassland with rolling hills that have a beauty all their own.
To the west are the Santa Rita mountains. Mount Wrightston is the highest point here at 9,453 feet and is actually the highest point in the Tucson area. Even higher than Mount Lemmon.
At Sonoita, head east on AZ-82 E for 35 miles to AZ-80.
Immediately east of Sonoita you can see the Antelope and Mustang Mountains. They are surrounded by endless miles of grassland and, if you're lucky, you might even see herds of Antelope grazing. On this leg of the trip you'll be caught up in the vastness of the southeastern Arizona high desert with smaller mountains poking up through the grass.
As you near AZ-80, you'll cross the San Pedro River. The headwaters of the San Pedro are located near Cananea, Sonora, Mexico and it's the only river in Arizona that flows north. It flows north 140 miles through four counties and is a tributary of the Gila River. Back in the early 19th century, beaver trapping was so good on this river it was called Beaver River.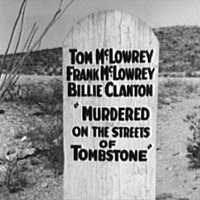 From here, it's only about 10 miles to Arizona 80. Turn south on AZ-80 and go 3 miles to Tombstone.
In 1877, when Arizona was still a Territory, Ed Schieffelin was a scout for the U.S. Army. Ed liked the idea of prospecting and scoured the boonies searching for ore samples.
The origins of Tombstone can be found in the name of the claim filed by Ed upon his discovery of silver ore near the San Pedro River. He called it "The Tombstone" because his comrades in camp told him the only stone he'd find was his tombstone.
Only two years later in 1879, Tombstone sported a population of 100 eager miners looking to cash in on their riches too. The town subsequently had a huge population growth which exploded to 7,000 over the next two years. This number only included white males who were registered to vote. Add in women, children, Chinese and Mexicans and some say that number exceeded 15,000.
As you can guess, with growth that rapid, lawlessness was not far behind. There were over 100 saloons in Tombstone and a red light district, restaurants, hotels, schools and churches, newspapers and theaters.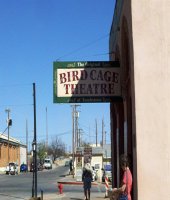 The Bird Cage theater was the the rowdiest. There are 140 bullet holes in the walls and ceilings which lend credence to the article in the New York Times from 1882 where it was reported that the Bird Cage Theater was "the wildest, roughest, wickedest honky tonk between Basin Street and the Barbary Coast."
Wyatt Earp and his brothers Virgil and Morgan Earp, along with Doc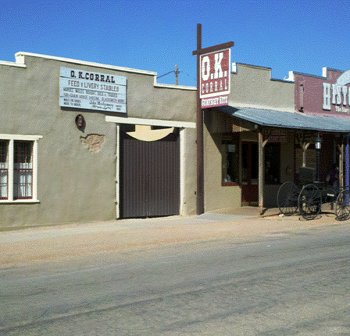 Holliday had their famous gunfight with Tom and Frank McLaury, and Billy Clanton on October 26, 1881 at the OK Corral.
Actually, the OK Corral was nothing but a vacant lot on Fremont Street.
The fight lasted 24 seconds with 30 shots fired, leaving the McLaurys and Clanton mortally wounded.
They were eventually buried at the old Tombstone Cemetery known as Boot Hill.
Boot Hill is the most famous cemetery in the west and it gained it's name as a result of the conditions back then.
So many victims and criminals suffered sudden and violent deaths and were buried with their boots on.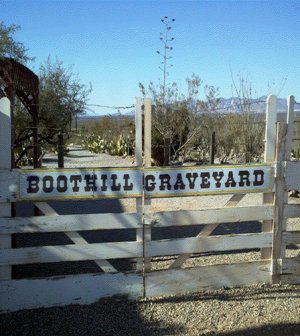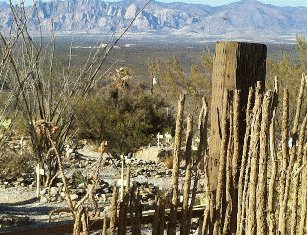 In 1884 Tombstone Boot Hill Cemetery closed after the new cemetery opened up on W. Alan Street. For years, Boot Hill fell victim to age, disrepair, and souvenir hunters. Many of the grave markers were taken or so weathered as to make them unreadable. Conservationists used old city maps and records to restore the cemetery locating burial sites within a few feet.
The Crystal Palace came highly recommended for the best meal in Tombstone. I had the 8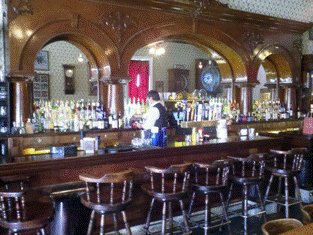 oz. Top Sirloin Steak. It comes with Baked Potato, Mashed Potato or beer battered French fries, Dinner Roll, choice of vegetable of the day or cowboy beans. It was delicious.
The atmosphere is right out of the old west too. The bar is massive and waitresses are decked out in 1880's garb.
After dinner I wandered the wooden sidewalks of Tombstone and found a cigar shop where I purchased a nice Gurka. Clunking down those old wooden sidewalks in cowboy boots whilst puffing on a cigar really takes you back if you let your imagination run away.
I went back after dark for another stroll and found the town deserted after sunset. Just a few folks were left and they were packing it out. There was very little lighting and a partial moon lit the way. Talk about surreal!
I was told that it's a pretty quiet place most of the time, but the weekends are more lively.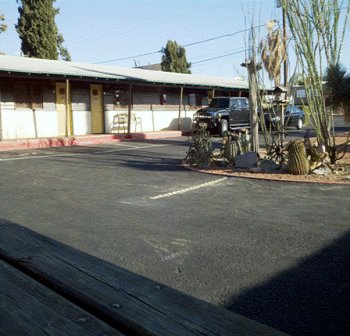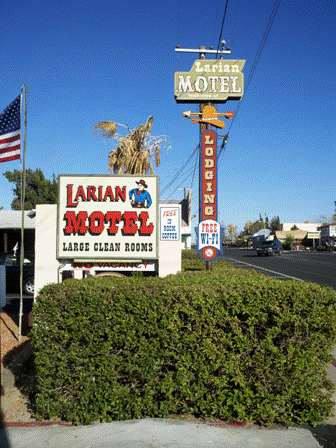 The Larian Motel is where I stayed. This place doesn't look like much from the street, but you're in for a surprise. All the rooms were recently remodeled and are clean and modern. Parking is right in front of your room and the management is friendly and accommodating.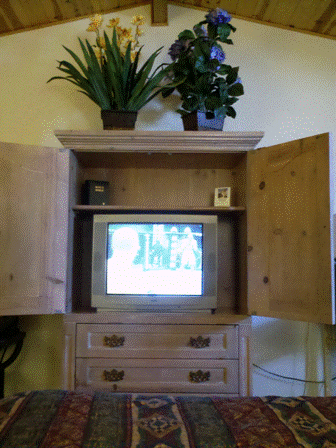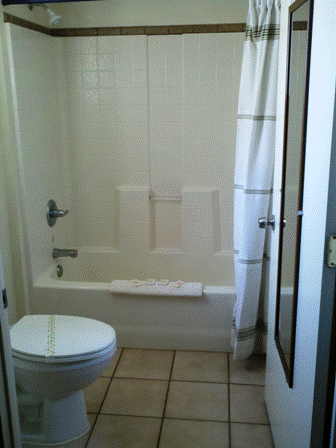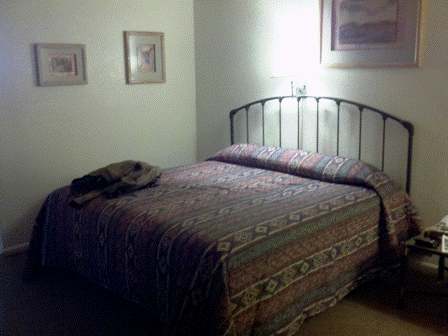 They have free Wi-Fi and it worked well in my room. The rates are reasonable too. I paid $78.00 (tax included) for a single with a Queen bed. I would consider the Larian a Biker Friendly Motel. It's located on Fremont Street right next to the Schieffelin Hall and a block from the action on Allan Street.
Click Play in Center of Screen To Watch Video
Return From Tombstone To Arizona Road Trips


Return to Road Trip Bikers