PRESCOTT ROAD TRIP
This route to Prescott, Arizona starts as a big loop from Phoenix. It's in two parts. Part one takes you through Wickenburg,Congress, Yarnell,and Wilhoit. Part two goes through Camp Verde, Strawberry and Payson.
Part one is the back on Highway 89 which is the scenic route to Prescott, Arizona. It will bypass most Interstate travel and provide you a much better ride.
Part two from Camp Verde to Strawberry and Payson gains elevation, so even if you travel this route in the summer, you might want to bring along extra clothing because it can get chilly in some parts. Elevations can reach over 7,000 ft.
---

View Prescott in a larger map
From: Stack Interchange (I-10/I-17) in Central Phoenix I-17 N
1. Head north on I-17 N (23.3 miles)
2. Take exit 223B for Arizona 74 W/Carefree Hwy
3. Turn right onto AZ-74 W (30.2 miles)
4. Turn right onto US-60 W/Grand Ave W into Wickenburg (9.5 miles)
5. Enter Traffic Circle and keep right onto US-93 (6.0 miles)
6. Keep right to head northwest on AZ-89 N towards Congress (53.0 miles)
7. Slight left onto S Montezuma St. (Whiskey Row)
8. Turn right onto W Gurley St (1.3 miles)
9. Slight right onto AZ-69 S to Prescott Valley/Dewey (16.2 miles)
10. Turn left onto AZ-169 N (15.1 miles)
11. Turn left to merge onto I-17 N toward Flagstaff (8.2 miles)
12. Take exit 287 for AZ-260 toward Cottonwood/Payson/Arizona
13. Head southeast on AZ-260 E/Finnie Flat Rd (33.8 miles)
14. Turn right onto AZ-260 E/AZ-87 S to Payson (23.7 miles)
15. Keep south on AZ-87 S from Payson (73.3 miles)
16. AZ-87 S/N Country Club Dr
17. Merge onto AZ-202 Loop W/I-10 W (16.3 miles)
Total: 312 mi
---
If you're planning a ride to Prescott, then definitely take the back way through Wickenburg, Congress, and Yarnell. By going this way you experience some really cool road.
Exit I-17 at (223B) Carefree highway and head west past Lake Pleasant. This will avoid US 60 through Phoenix and Sun City. Unless you want to go through there, I recommend this way because the traffic up Grand Avenue (US 60) is ridiculous.
You'll connect with US 60 anyway just south of Wikenburg.
Take a right on US 60 and head into Wickenburg. Wickenburg was named after Henry Wickenburg. He discovered high grade gold ore while out hunting one day in 1863. As the story goes, he took a shot at a vulture and discovered gold where it fell.
The mine was the most productive gold mine in Arizona history at over 200 million dollars.
Before you get to the main part of town there is a traffic circle that will by-pass the town. Take the first exit onto US 93 and travel about 6 miles to AZ-89. Keep right towards Congress, Arizona.
Arizona is dotted with mining ghost towns and Congress is another one.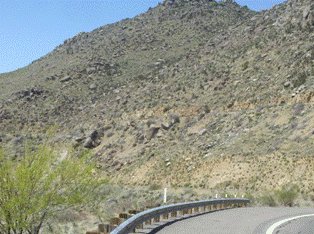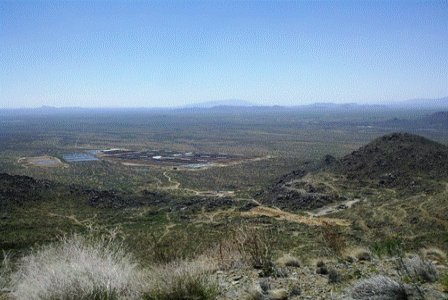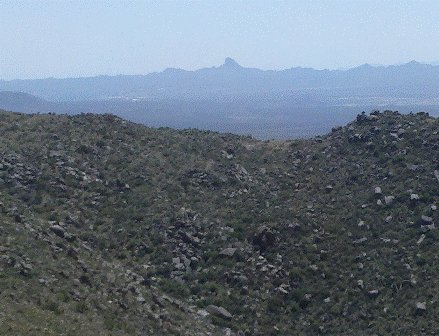 It lies at the base of Yarnell Hill. This hill takes you up 1700 feet through several switchbacks and provides a killer view of the desert to the south.
You might be tempted to haul ass here, but be careful to watch for cops as they like to hang out around the corners just out of sight till it's too late.
Yarnell, Arizona is at the top of Yarnell Hill and you'll notice a very different terrain. Yarnell sits at 4779 feet so you'll begin to notice more alpine type vegetation. It's very different from the desert below.
The road gets very curvy after you pass Wilhoit, Arizona. This twisty, winding, stretch is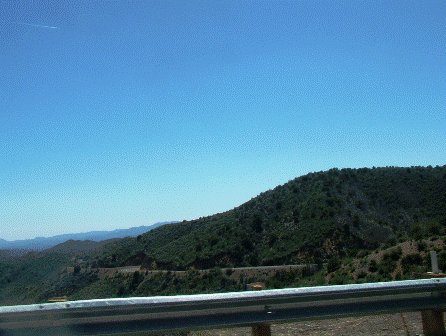 super fun at the right speed. It's almost hypnotic as you dive into the corners and accelerate out of them. The views are spectacular too. Unfortunately, this stretch is only 8 miles or so till you get into the outskirts of Prescott, but WOW!
As you enter town, you'll find yourself right on the historic Whiskey Row. With many restaurants, saloons, shops and galleries, it's a great place to park your bike and hit the sidewalk for awhile.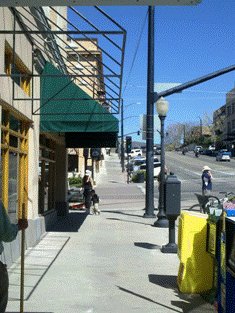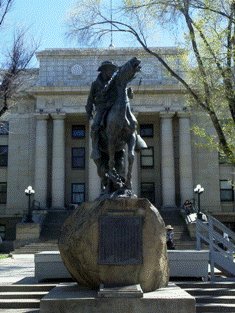 Prescott was the Capitol of the Arizona territory until 1867 when they moved it to Tucson. In 1877 they moved it back to Prescott. Finally in 1889 it was moved one more time to Phoenix.
The Yavapai County Courthouse sits in the middle of the Gurley street business district. Directly in front is a monument known as the Captain O'Neill Rough Rider Monument. It is fondly referred to as "Buckey". It was a tribute to the Rough Riders of Arizona.
After leaving the downtown area, you'll travel east approximately 1.3 miles on Gurley Street then keep left towards Prescott Valley on AZ-69 for 16.2 miles to Dewey. At Dewey take a left onto AZ-169. This a pretty ride for 15 miles to I-17.
As you travel north on I-17 for 8 miles, you'll experience stunning views of mountain terrain and the Verde Valley far below. Off in the distance to the north you can see the red rocks of Sedona.
At the bottom of the long hill you'll take exit 287 at Camp Verde. A right turn puts you onto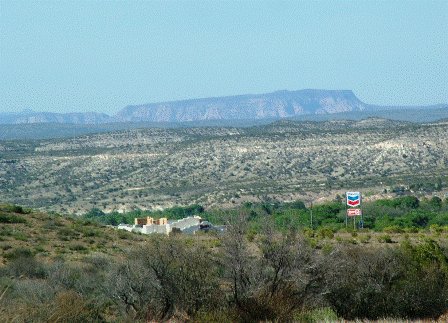 AZ-260 for 33 miles. If you don't need to stop for fuel or food, you can exit one mile earlier onto the General Crook Trail. This is also AZ-260 and takes you up the Mollogon Rim.
You'll climb pleasant winding road high through scenic forested lands. When you reach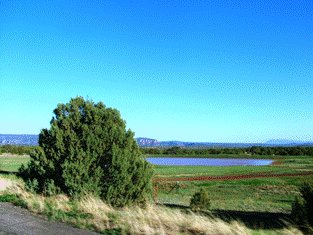 the top of the Rim, the altitude will top 7,000 feet and it might get a little chilly requiring a jacket or sweatshirt. When we went in the middle of April, we had to stop and put on warmer gear.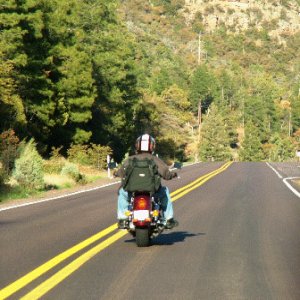 The scenery changes to tall Ponderosa Pine Forest with cool rock outcroppings. There are Elk up here too so watch out.
The road finally comes to a T-intersection where you'll take a left onto AZ-260/87.
Turn right and go 23 miles back down through Strawberry and Pine. This is beautiful country too. Slow down as the road is very curvy here with steep mountain grades and hairpin corners.
Continue on to Payson. Payson was founded in 1882 and is an alpine town with substantial population of over 15,000. It is just about the geographical center of Arizona. On the south end of town is a casino too.
Leaving, you'll stay on AZ-87 (Beeline Highway) to Mesa which is a little over 80 miles from Payson.
This big loop will take the whole day and is a perfect ride to experience the many different types of terrain in Arizona. There are many cool old towns with lots of history too.
Click Play in Center of Screen To Watch Video
Return From Prescott to Arizona Road Trips



Return To Road Trip Bikers