Mackinac Bridge Ride
The Mackinac Bridge Ride covers scenic roads from Bear Lake, Michigan to St. Ignace, Michigan. Part one depicts travel through Traverse City, Charlevoix, Petoskey, and Harbor Springs.
Part two is the Bridge Crossing almost in it's entirety from the south approach ramp in the Lower Peninsula to the toll booth on the Upper Peninsula side then on to St. Ignace. The whole "span" is uninteruppted continuous footage.
For those interested, here's a long, detailed list of written directions of this travel destination covering my route from Bear Lake Michigan to St. Ignace over the Mackinac Bridge.
169 mi, 4 hours 32 mins.
Starting from 11 Mile Rd
1. Head east on 11 Mile Rd toward Old 11 Mile Rd/Old 599 Rd
2. Take the 1st left onto Big 4 Rd
3. Turn right onto 13 Mile Rd
4. Turn left onto Healy Lake Rd
5. Continue straight onto Springdale Rd
6. Turn left onto Nesson City Rd/Railroad Ave
7. Continue onto Nessen City Rd
8. Continue onto Copemish Rd
9. Turn right onto Co Rd 602/Lindy Rd
10. Turn left onto Karlin Rd
11. Continue onto Co Rd 700/Nessen Rd
12. Turn left onto Co Rd 137/Karlin Rd
13. Continue onto M-137 N
14. Turn right onto US-31 N
15. Turn left onto M-37 N/US-31 N
16. Turn right onto S Airport Rd W/Co Rd 620
17. Turn left onto 3 Mile Rd N
18. Turn right onto M-72 E/US-31 N/Munson Ave
Continue to follow US-31 N
19. Slight right onto US-31 N/Petoskey Ave
Continue to follow US-31 N
20. Turn left onto Spring St
21. Continue onto W Mitchell St
22. Continue onto US-31 N/Bay View Rd
Continue to follow US-31 N
23. Turn left onto M-119 N
24. Turn right onto State St
25. Continue onto E Bluff Dr
26. Continue onto M-119 N/S Lake Shore Dr
27. Turn right onto N State Rd
28. Take the 2nd left onto W Levering Rd
29. Turn left onto Canby Rd
30. Turn right onto E Sturgeon Bay Trail
31. Turn left onto N Pleasantview Rd
32. Continue onto Elder Rd
33. Turn left onto Cecil Bay Rd
34. Turn right onto Wilderness Park Dr
35. Turn right to stay on Wilderness Park Dr
36. Take the 1st left to stay on Wilderness Park Dr
37. Take the 1st right onto W Central Ave
38. Turn left onto Cedar St
39. Turn right onto Lakeside Dr
40. Take the 3rd right onto Perrot St
41. Take the 2nd left onto W Central Ave
42. Turn left onto N Nicolet St
43. Turn left onto W Jamet St
Partial toll road
44. Merge onto I-75 N and cross Mackinac Bridge
45. Take exit 344A toward Saint Ignace
46. Turn right onto I-75 BUS S
Arrive at the Galley Restaurant in downtown St. Ignace, Michigan
---

People that live in Michigan will tell you: "If you don't like the weather... wait a minute." The day I left on this trip started out with an early morning thunderstorm. By the time I got on the road the rain had stopped and things were drying out. Although most of the day was overcast, it didn't rain again. There were times when the sun poked out and by the time I got to the Mackinac Bridge, there were big puffy clouds and lots of sun.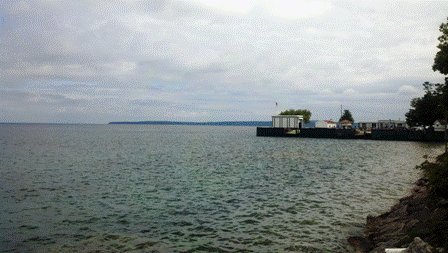 This made for gorgeous views of the bridge, Mackinac Island, and the Straits of Mackinac.
I'm certain everybody won't be starting this trip from Bear Lake, so I highly recommend Traverse City as a launching point for this ride which takes you through many beautiful small towns.
Leaving Traverse City, you head towards Charlevoix and Petosky on US-31. US-31 takes you along the east arm of the Grand Traverse Bay with some nice views of the water.
Charlevoix, is also known as Charlevoix the Beautiful. It borders Round Lake, Lake Michigan, and Lake Charlevoix. The small population of abut 3,000 swells in the summer months because of tourism and the high amount of vacation homes.
Farther up the road is Petoskey. Home for many years to Ernest Hemingway, Petoskey is another beautiful small resort town. There is a neat rest area right before you get there called Big Rock Point.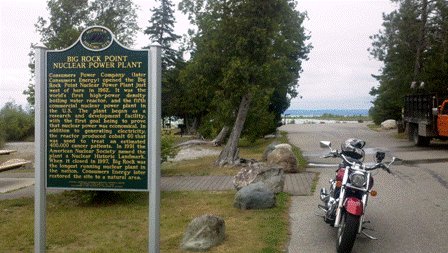 I stopped and discovered some interesting things.
Just north of Petoskey, veer left on M-119 through Harbor Springs.
M-119 is known as Michigan's #1 scenic drive. The "Tunnel of Trees" scenic drive makes up 20 miles from Harbor Springs To Cross Village and hugs the shoreline of Lake Michigan.
The road is narrow with no center line and has a few places to stop and view Lake Michigan, but be careful because a lot of these are privately owned.
You travel at 25 mph through mostly residential areas that is very dense and wooded where the tree canopy literally covers the road. I would love to come back in the fall for this ride and see the colors and take some top notch travel videos.
After Cross Village, it really doesn't matter how you navigate. I just randomly worked my way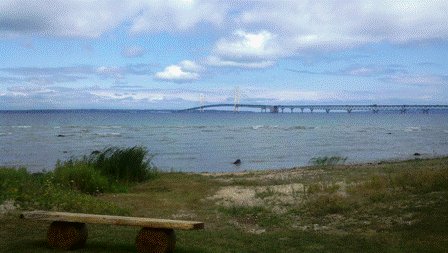 over pretty country roads to the western edge of Mackinaw City. In a residential area I found a small lot with a picnic table right on the water with a view of the Mackinac Bridge.
Crossing The Bridge:
Get on I-75 northbound to leave the Lower Peninsula.
You might be surprised that there are no toll booths anywhere, but they'll get'cha on the other side.
The Mackinac Bridge toll for Cars and Bikers is the same rate: $3.50 each way.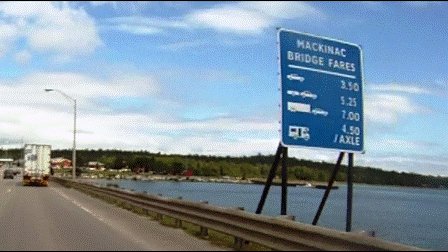 I used to live in Michigan and crossed the bridge in my truck several times. However, never on my bike.
Due to the unusual nature of the Mackinac bridge, I feel I must let you know what to expect.
The outside lanes in each direction are cement and the inside lanes are metal grates.
I was hoping to use the outside lanes, but they were being worked on that day which forced me into the inside lanes.
Now, I've traveled many, many, multiple thousands of miles by bike and even used to be a motorcycle test rider for Harley Davidson.
NOTHING bothered me more than those metal grates. I've been over this type of uncomfortable, bridge on several other occasions, but these were for short distances.
The main span of the Mackinac bridge or as some call it The Big Mack, where the grates are used is 8614 Feet! It feels like riding on ice and your bike could slip out from under you and any second and the strips of steel try to pull you all over your lane.
I was very relieved to get off the main span and back onto the paved approach ramps.
Really, it's not that big of a deal. It's only a sensation. The important thing to remember is your bike will go straight. Don't let it scare you to the point of holding the bars in a death grip or holding your breath. Don't panic or stiffen up. Just relax and keep it slow. It's referred to in some of the blogs as like loose holding the reins on your horse. Let it wander a little bit and don't fight it.
Either way, going over the Mackinac Bridge is an adventure that you really must experience.
Pay your toll and jump off I-75 on US-2 and head into St. Ignace.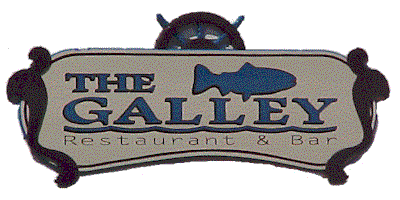 I stopped at a real neat, family owned restaurant for lunch. It's called the Galley Restaurant and Bar.
It used to be a fishery and is located right in the heart of the fudge/ferry boat district of St Ignace on I-75 business loop.
The extensive menu is excellent. I dined on the Lake Perch while looking out the window at Lake Huron and Mackinac Island. The place has that authentic seafood atmosphere.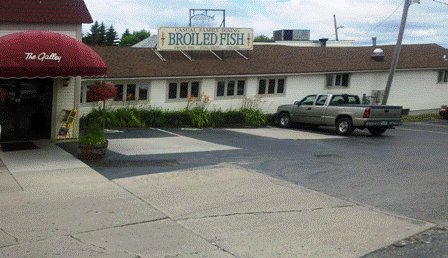 While doing a little research about the Galley, I heard about something called Whitefish Livers.
Apparently, it's a little known local dish and quite good.
They say you should expect the taste to be very different and not at all like what you might think.
I'm looking forward to trying this dish the next time I get there.
They're located at 241 North State Street St. Ignace, MI 49781.
Ph# 906 643 7960.
Click Play Button In Center Of Image To Watch Youtube Videos


Return from Mackinac Bridge Ride to Michigan Road Trips



Return to Road Trip Bikers