Milford Michigan Ride
The Milford Michigan ride is a day trip from Cousin Eric's in Laingsburg (Just outside Lansing, Mich.) to my hometown of Milford, Mich. and back. Stopping at Oak Grove Cemetery and American Legions in Howell (Post 141) and Milford (Post 216).

View Laingsburg, Mich. to Milford, Mich. in a larger map
---


For those interested, here's the written directions:
From: Tyrrell Rd in Laingsburg
1. Head east on Tyrrell Rd toward Fenner Rd
2. Turn right onto Fenner Rd
3. Turn left onto W Britton Rd
4. Turn left onto Lansing Rd
5. Take the 2nd right onto M-52 S
6. Turn left onto M-43 E/M-52 S/E Grand River Ave Continue to follow E Grand River Ave
7. Sharp right onto I-96 BUS W/M-59 W/Highland Rd
8. Make a U-turn )(Michigan Left) Continue to follow M-59 E/Highland Rd
9. Turn right onto N Milford Rd
10. Continue onto W Summit St
11. Continue onto N Milford Rd
12. Continue onto N Main St
13. Turn left onto Liberty St
14. Turn right onto 1st St
15. Slight left onto Atlantic St
16. Turn left onto Hill St
17. Continue onto Noble St
18. Turn right onto Atlantic St
19. Take the 2nd left onto Mont Eagle St
Arriving at Oak Grove Cemetery.Total: 56.4 mi - about 1 hour 39 mins
---
Every year on my national tour, I travel back home to Milford, Michigan. I grew up there and like to re-visit as often as I can. Michigan is my original home and I can hardly wait to see my friends and relatives throughout the state each summer. Not to mention, this really helps out on lodging expenses too.
I was invited to meet my cousin Eric in Laingsburg for a ride. Eric is a big time biker too and loves to ride. We decided that a good trip would be down to Milford and back.
Eric is also a member of the American Legion as am I, so we briefly stopped off at the post in Howell for something to drink and were soon off to Milford Michigan.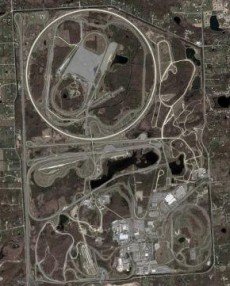 The video below depicts our little tour of Milford Michigan. We arrived on Milford road from Highland and went through downtown. A right turn on Liberty street took us east through some historic neighborhoods and we ended up at the Oak Grove Cemetery.
I always like to visit the family plot here. We met a nice gal named Linda who is the curator and she talked with us for about 30 minutes. Her knowledge about the town and it's historical figures was impressive.
Milford Michigan has a Legion post too, so we made our way back out over the Huron River and to the other side of town to Post 216 for some more cool refreshments. (It was warm that day)
We left town on the south side via General Motors Road. This road takes you past Camp Dearborn and right into the GM Milford Proving Grounds main gate at Hickory Ridge Road.
I suppose GM MPG put Milford Michigan on the map. It opened in 1924 was the first testing facility of its kind. It encompasses 4,000 acres and now has a staff of about 4,800 people. The purpose is to simulate real world driving conditions for automotive testing without leaving the secret property.
FACTS ABOUT THE MILFORD MICHIGAN PROVING GROUND
Source: GM Performance Division website.
LAND AREA
Approximately 4,000 acres
RESIDENT DIVISIONS / STAFFS
25
NUMBER OF BUILDINGS
115
NUMBER OF EMPLOYEES
4,800
CAFETERIA
Serves over 1,000 meals per day
THREE LAKES ON PROPERTY
Sloan, Mott and Pickett
TEST ROADS
Equivalent to over 132 miles of two-lane highway
MILES DRIVEN ANNUALLY
1 billion miles driven - September 1994
15,000,000
GASOLINE USED ANNUALLY
2,464,606
GALLONS OF ROAD STRIPING PAINT USED
16,550 gal. of white and yellow paint
35,000 lbs. of reflecting beads
VEHICLE DYNAMICS TEST AREA
Nicknamed "Black Lake"
67 Acres
approximately the equivalent of 59 football fields
OVAL TEST TRACK
3.8 miles
CIRCULAR TEST TRACK
4.5 miles
EAST / WEST STRAIGHTAWAY
3.104 miles (including loops)
1.204 miles each way (level)
FULL SCALE BARRIER TESTS
600 per year
HYGE SLED TESTS
1,500 per year
COMPONENT TEST LAB
4,400 tests run annually on various parts of GM vehicles
The rest of the trip is simply backtracking our route to Laingsburg. With the exception of a little rain towards the end of the ride, it was very pleasant and made for a great way to spend the day with my cousin.
---
Click Play Button In Center Of Image To Watch YoutubeVideos


Return from Milford Michigan Ride to Michigan Road Trips



Return to Road Trip Bikers