BEST WISCONSIN ROAD TRIPS
Wisconsin Flag and the Official Seal of the State of WI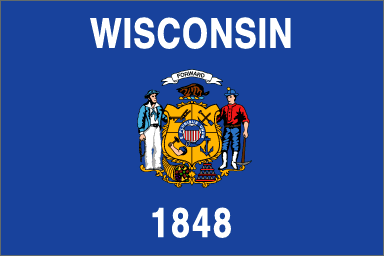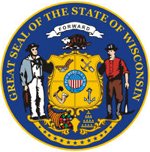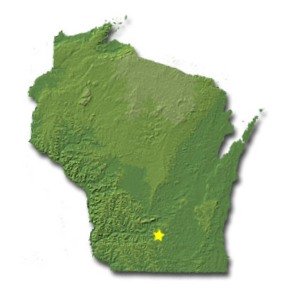 ---
This state shares a certain distinction with only one other state. It, along with Michigan, has direct access via a car ferry over an inland sea. (Lake Michigan) The S.S. Badger connects Manitowok, WI with Luddington, Michigan over a nautical version of US-10 and is an almost required side excursion for bikers. Check out the S.S. Badger page and video below.
One popular theory of this mid-western states name originates with the Algonquian Indians who called the Wisconsin River Meskonsing, which means "it lies red" and might be in reference to the red sandstone on its banks.
Known as "America's Dairyland" it leads the nation in cheese production, therefore, the football fans at Lambeau field (Home to the Green Bay Packers) show state pride during games by donning the "Cheese Head" hat.
Almost half of the population of 6 million is of German descent which would probably account for Milwaukee being a major producer of beer and home to the second largest brewer in the nation - Coors Brewing Company.
In 2008 Coors acquired Miller Brewing and it's brands of Pabst, Schlitz and Blatz. In La Crosse is G. Heileman Brewing,(Stroh Brewery Company) One of their products is Old Style. The factory has an excellent tour and should be taken if time permits.
Geographically, the state has five distinct regions and is 46 percent forested. The Lake Superior Lowland borders Lake Superior in the northernmost part of the state.
The Northern Highland section is home to the 1.5 million acre Chequamegon-Nicolet National Forest. The Dells, which is one of the popular travel destinations is in the Central Plain region.
Milwaukee and Green Bay are located in Eastern Ridges & Lowlands and the Western Upland contains picturesque bluffs along the Mississippi river.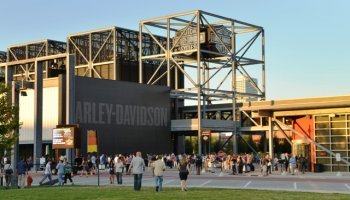 Manufacturing is the largest sector of the economy and the most well known manufacturer to folks with our common interest is Harley Davidson.
This legendary American motorcycle manufacturer is headquartered in Milwaukee. Factory tours at four of their manufacturing sites are open to the public.
The Harley-Davidson Museum is a stop that any biker, regardless of motorcycle preference, would thoroughly enjoy. Located near downtown Milwaukee, it sits on a 20 acre, $75 million complex which logs around 300,000 visitors per year. Inside 3 architecturally stunning buildings are over 450 motorcycles and thousands artifacts from the company's 100 year history.
---
Click on the Link Below For The Latest YouTube Videos From Wisconsin
---
---
Please submit your own Wisconsin Road Trips to be published on Road-Trip-Bikers.com
Just Click on the Link Below.
Suibmit Road Trip

Return from Wisconsin Road Trips to Road Trip Bikers